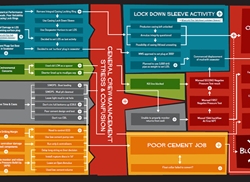 On April 20th 2010, 11 men lost their lives after an explosion aboard the dynamically-positioned, semi-submersible drilling rig Deepwater Horizon. On that day, the oil and gas industry changed forever. This new publication highlights every key factor that
(PRWEB UK) 27 April 2015
Five years on from the Deepwater Horizon disaster, energy industry network Oil & Gas IQ publish a comprehensive list of every root cause and contributing factor. This project was in partnership with oil and gas health & safety expert and former BP Offshore Operations Manager, Derek Park, to publish "Deepwater Horizon – Anatomy Of A Disaster".
The blowout and resultant oil spill pumped 3.2 million barrels into the Gulf of Mexico over a period of four months in the biggest marine catastrophe in US history. The legal case against supermajor, BP, is still ongoing and will see the energy giant pay a maximum fine of $13.7 billion for gross negligence in the disaster at the ultra-deep water Macondo Prospect.
Based on public domain facts presented throughout the BP trial, Anatomy of A Disaster is a detailed infographic guide to the perfect storm of events that lead to this tragic Macondo incident.
"On April 20th 2010, 11 men lost their lives after an explosion aboard the dynamically-positioned, semi-submersible drilling rig Deepwater Horizon. On that day, the oil and gas industry changed forever. This new publication highlights every key factor that caused the disaster." Tim Haïdar, Editor In Chief, Oil & Gas IQ
The interactive analysis was written by Derek park who also wrote the influential industry analysis piece Never Say Never Again, an in-depth analysis into the disturbing parallels between all of the major offshore incidents and oil spills since Sea Gem in 1965 though to Macondo, offering solutions to events that keep on recurring with such tragic consequences.
The Deepwater Horizon – Anatomy Of A Disaster interactive flow chart clearly and comprehensively breaks down the web of contributing factors that led to the biggest offshore disaster of the last quarter century.
The fully interactive PDF can be viewed exclusively at OilandGasIQ.com: Deepwater Horizon - Anatomy of a Disaster
About Oil & Gas IQ
Oil and Gas IQ is a leading information based portal dedicated to the promotion of oil and gas industry developments and the continued learning of its members. Led by over 100 technical and strategic events across Europe, Asia, the US and the Middle East every year we educate over 5,000 strategic and practical executives annually.
About Derek Park
Derek Park has 35 years experience of operational and organisational management in the oil, process and utilities industries. A chartered mechanical engineer, he spent time as a construction and commissioning manager on major offshore projects and was later an OIM in the North Sea. He has also managed operations on major pipelines and at onshore petrochemical facilities. During this time he realised that whilst the actions of people are key to the performance of any organisation, this is often not fully appreciated by managers and management systems.