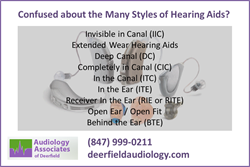 Deerfield, IL (PRWEB) October 09, 2013
Hearing aids can be hard to research because of the extensive amount of new vocabulary and abbreviations used to refer to them. It is especially tough for the first time hearing aid buyer. Audiology Associates of Deerfield hopes that the quick reference list of standard hearing aid styles and terminology recently added to their internet site will help Deerfield residents better appreciate their hearing aid options.
The list contains fundamental information on the most common hearing aid types among them:
Invisible in Canal (IIC)
Completely in Canal (CIC)
In the Canal (ITC)
In the Ear (ITE)
Behind the Ear (BTE)
Open Ear / Open Fit
Receiver In the Ear (RIE or RITE)
When all the hearing aid models are written side by side, it really is easy to see the reason why buyers have a hard time differentiating them. Many of the names and acronyms are very similar. Audiology Associates of Deerfield hopes that the quick reference guide will help clarify some of the essential differences between the many styles of hearing aids. While noting that online research is an important step in selecting the ideal hearing aid, Audiologists would caution potential buyers that there is a lot of additional information to be obtained by consulting with a hearing care expert. A hearing care specialist can deliver advice about which hearing aid styles are suitable for an individual after learning more about each person's activities and lifestyle and where the hearing aid will be worn most frequently.
About Dr. Sheri Gostomelsky, Au.D.:
Dr. Sheri Gostomelsky, Au.D. is the primary audiologist at Audiology Associates of Deerfield serving both the Deerfield IL and Northbrook IL locations. Dr. Gostomelsky earned her Bachelors Degree in Speech and Audiology at the University of Illinois, in Champaign IL, her Masters Degree in Audiology at Illinois State University, and her Audiology Doctorate from the Arizona School of Health Sciences. Dr. Gostomelsky is board certified by the American Academy of Audiology, is licensed through the State of Illinois, and maintains membership in the Academy of Dispensing Audiologists, Illinois Academy of Audiology, and the American Academy of Audiology.
About Audiology Associates of Deerfield, PC:
Audiology Associates of Deerfield, PC has provided hearing aids in Deerfield, Illinois and its surrounding communities for years. The company offers a full range of diagnostic and preventative hearing healthcare professional services, including hearing aid screening, evaluations, hearing aids sales and rehabilitative and preventative counseling. The staff at Audiology Associates of Deerfield, PC is dedicated to keeping abreast of the latest improvements in technological advancements in the hearing industry and is committed to offering the most current options to our patients.
Contact:
Dr. Sheri Gostomelsky
http://www.deerfieldaudiology.com/
Audiology Associates of Deerfield, PC
400 Lake Cook Road, Suite 108
Deerfield, IL 60015
(847) 999-0211
Audiology Associates of Deerfield, PC
1535 Lake Cook Road, Suite 412
Northbrook, IL 60062
(847) 999-0272