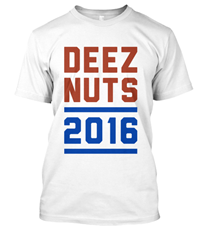 Anyone can run for president as long as certain forms are filed with the FEC, and Deez Nuts 2016 is now making strides in several states
New York, NY (PRWEB) August 20, 2015
With the 2016 campaign season now underway, new candidates are starting to surge in key swing states in the U.S. The official Deez Nuts 2016 t-shirt has now been launched online according to a brand new report at the CherryNews.com website.
Consumers will now be able to provide promotional support to the 15-year-old Brady Olson who started his new presidential campaign in Emmet County Iowa. The new public polls, as explained in the Cherry News report, showcase that Deez Nuts has now reached 8% in Iowa and 9% in North Carolina. The launch of the supportive T-Shirt campaign is expected to bring awareness to new supporters.
"Anyone can run for president as long as certain forms are filed with the FEC, and Deez Nuts 2016 is now making strides in several states," said one source at the Cherry News company.
The TeeSpring platform is now helping musicians, artists and some new presidential candidates to create fundraising campaigns on the Internet. The ability to print customized shirts on demand is one of the ways that some organizations are securing funds to use to support local, regional or national causes.
"With the launch of the official T-Shirt campaign, more people might become aware of the lesser-known candidates in the 2016 race for president," continued the source.
The Cherry News company will continue to monitor and report all future news relating to the support campaign for the Deez Nuts candidate. Stock status for all shirts in stock will be reported with each future report to help alert potential supporters.
About CherryNews.com
The CherryNews.com company supplies news, reviews and consumer products information on its globally recognized website. The company is known for its coverage during election years as well as consumer product reports. The CherryNews.com company now updates its news feed multiple times daily to help the public find a fresh resource to locate third-party content on the web.