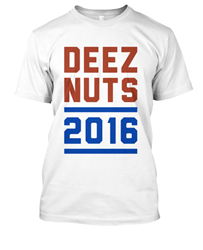 New interest has grown due to the Iowa boy coming forward and revealing his identity, and this has led to more copycats filling Form 2
Midland, TX (PRWEB) August 28, 2015
The Cherry News company is reporting the Deez Nuts 2015 flash sale for t-shirts in stock at http://teespring.com/deez-nutz-for-president. This promotion is designed to raise more awareness to supporters for the duration of the campaign. The new report at the CherryNews.com website details the new shirt discounts supporters can expect at http://cherrynews.com/deez-nuts-sale-t-shirts.
The continued support for the 15-year-old Iowa farm boy running for President of the United States has helped garner more public support through independent websites over the past two weeks. The FEC has reported that more than 500 additional candidates have now officially joined the 2016 race for president to compete with Deez Nuts, according to the Cherry News report.
"New interest has grown due to the Iowa boy coming forward and revealing his identity, and this has led to more copycats filling Form 2," said one reporter at the CherryNews.com website.
The in-stock merchandise through supporter groups that is covered in the posted report details how the competition to create Deez Nuts 2016 campaign merchandise is growing. While the candidate does not yet have more than regular apparel, some companies are planning to design and launch more products as the election cycle heats up.
"Companies such as TeeSpring, CafePress and eBay are go-to resources to buy campaign merchandise for a variety of MSRP prices," the reporter included.
The Cherry News company staff size has been increased to provide additional coverage for all reporting on the 2016 presidential race. Currently published content will remain curated and sister company websites like http://brainwarp.net are scheduled to publish new data.
About CherryNews.com
The CherryNews.com company reports news and other data to consumers through its syndicated website in the U.S. The company gathers interesting and true stories from multiple sources and compiles information for the public. The CherryNews.com company now has a larger reporting staff to cover all election coverage through the 2016 year.