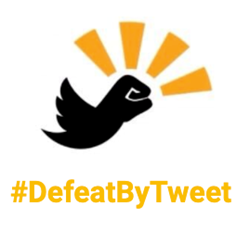 We can now, collectively, give Trump an ultimatum - stop spreading hate or fund your own demise. Either way, we win." - Xander Schultz, Founder of Defeat By Tweet
NEW YORK (PRWEB) June 26, 2020
Several organizations have come together to launch a donation-based initiative that aims to turn Donald Trump's controversial Twitter platform against him. Defeat By Tweet allows people to pledge a small money donation every time Trump tweets. Donations will all be in Trump's name and go directly towards the Justice Fund, a group of 15 Black-led political organizations, such as Color of Change PAC and Black Voters Matters Fund, aiming to remove him from office and implement policies that will help their communities. For each tweet Trump sends, he will immediately receive an automated reply that a donation in his name has been made.
The encouraged donation amount is between $.01 to $.10 per tweet. Trump is averaging 30 tweets per day or 900 tweets per month. If the initiative gets 1,000,000 people to donate on average $.02 per tweet, he will be contributing $18 million in monthly donations to these organizations. Hedge-fund billionaire Mike Novogratz has already pledged $1M - or about $250 per tweet until the election - to the initiative.
"One of the most important things we can do as a country is to provide Black community organizers with the resources they need to gain more political power and elect the local, state, and federal leaders they deserve," said Xander Schultz, social justice entrepreneur and founder of Defeat By Tweet. "Trump has stoked racism and bigotry throughout his presidency, so I thought it would be amazing if we all came together to ensure every one of his tweets provides Black-led political organizers the funds they need to boot him out of office. We can now, collectively, give Trump an ultimatum - stop spreading hate or fund your own demise. Either way, we win."
"Getting out the vote is where change starts," said Mike Novogratz, Philanthropist & CEO of Galaxy Investment Partners. "This is the most effective and fun way to support criminal justice reform - and watching the Orange One contribute to his own demise will be joyful."
The initiative will be launching on June 26, 2020 and run until election day in November. Collaborating organizations include One for Democracy Action Fund, Momentum, The SOZE Agency, Liquid Soul, Movement Voter PAC, The Social Good Club, and TaskForce. American actor and model, Noah Centineo, and English YouTuber and author, Alfie Deyes, are among the celebrity partners helping spread the word. Influencers can participate in the initiative's promotion by applying here. Visit defeatbytweet.org and follow @DefeatByTweet on Twitter for updates.
If you are interested in an interview with Xander Schultz, please contact Melissa at melissa@bellivy.com.
About Defeat By Tweet
Defeat By Tweet is an initiative founded in June 2020 by social justice entrepreneur and philanthropist, Xander Schultz. It is a donation-based cause that allows people to make micro-donations to the Justice Fund, a group of Black-led political organizers working in the swing states, in Trump's name every time he tweets. Defeat By Tweet makes sure every tweet he sends hurts his chances of reelection while building political power for those he is marginalizing. Partnering organizations include One for Democracy Action Fund, Momentum, The SOZE Agency, Liquid Soul, Movement Voter PAC, The Social Good Club Crew, and TaskForce. Defeat By Tweet is for the people and made possible by the people. Visit defeatbytweet.org to learn how to participate in this movement and follow @DefeatByTweet on Twitter.
About Justice Fund
The Justice Fund is a group of Black-led political organizers in voting swing states. Organizations include Electoral Justice Project (Movement for Black Lives), Color of Change PAC, The Collective, Black Church PAC, Black Voters Matter Fund, Black PAC, Michigan Liberation, Detroit Action, Our Voice Our Vote Arizona, Mass Liberation Arizona, BLOC - Black Leaders Organizing for Communities, 1Hood Power, 215 People's Alliance, SONG Power, CCJRC for Action.