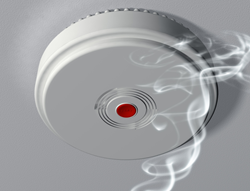 United States (PRWEB) October 02, 2014
When we install smoke alarms and carbon monoxide detectors, we expect those devices to protect us from serious harm. However, there are times when these devices fail to alert homeowners of impending dangers. The Consumer Product Safety Commission (CPSC) recently released two separate recall summaries concerning smoke detectors.
A recent CDC recall summary on September 11, 2014 of Kiddie products, states that "the alarms could fail to alert consumers of a fire or a carbon monoxide incident following a power outage."
A few models of this defective product, made by Kidde, are implicated in the recall. They include:

Kidde residential smoke alarm, model 112010S, manufactured between December 18, 2013 and May 13, 2014;
Kidde combination smoke/carbon monoxide alarm model il2010SCO, manufactured between December 30, 2013 and May 13, 2014; and
Kidde combination smoke/carbon monoxide alarm model KN-COSM-IBA, manufactured between October 22, 2013 and May 13, 2014.
According to the CPSC report, in the event of a power outage, the devices might not work since they are hard-wired, meaning they are "connected directly to household wiring." Even though the models contain batteries, they run off the electricity in the residence, and can fail if the power goes out.
The Rothenberg Law Firm LLP is committed to alerting the public of safety dangers. Therefore, the public should be aware that approximately 1.2 million defective smoke alarms were sold in the U.S., and another 112,000 were purchased in Canada. They were sold in stores such as Home Depot and Menards, as well as online through Amazon.com and other on-line retailers. If you own one of these defective products, it is important to make sure you get a replacement.
In a different recent recall summary of Siemens products on September 18, 2014, the CDC notes that "The fire alarm base can fail to sound an alarm, posing a risk of personal injury and property damage." Several models have been affected by this recall and include the following according to the CDC's website:

Siemens model FireFinder® XLS via DLC 6312 Device Loop Card
Siemens model FS -250
Desigo model FC2005, (50-point panel)
Desigo model FC2025, (252-point system)
Desigo model FC2050, (504-point system)
Cerberus PRO FC901, (50-point panel
Cerberus PRO FC922, (252-point system)
Cerberus PRO FC924, (504-point system)
Faraday models MPC-600 & MPC-7000
Smoke Alarm Safety Statistics
According to a report from the National Fire Protection Association (NFPA), between 96 and 97 percent of American homes contain smoke alarms. This means about five million homes still do not have one of these life-saving devices installed. The attorneys at The Rothenberg Law Firm LLP strongly recommend that every effort should be made to ensure the safety of your loved ones by making sure your home is equipped with fully functioning smoke alarms and carbon monoxide detectors.
The NFPA cites alarming statistics about homes without functional fire alarms:
About three in five deaths in home fires occur in residences with no functioning smoke alarm;
In reported home fires, smoke alarms only sounded in about 52 percent of them. In the 48 percent of cases where no alarm sounded, authorities indicate that the home either did not contain a fire alarm, or contained a defective fire alarm that was not working at the time of the incident; and
About one-fourth of all home fire fatalities occur in homes where a smoke alarm was present but "failed to operate."
These dangerous failures, where a smoke alarm is present but fails to sound, can result from:
Product defects;
Missing batteries;
Dead batteries; and
Disconnection from a power source.
Despite the disconcerting statistics about smoke detectors and home fires, the NFPA reports that "the risk of dying in reported home structure fires is cut in half in homes with working smoke alarms." If you own a properly functioning smoke alarm, you are more likely to avoid serious injuries in a fire at your residence.
What To Do If You Have One of The Defective Alarms?
Contact Kidde toll-free at (844) 553-9011 or online at http://www.kidde.com and click on Recalls for more information.
Contact Siemens at (800) 516-9964 or online at http://www.usa.siemens.com/buildingtechnologies and click on "Product Safety Recall" for more information.
Protect your family! Check your smoke detectors regularly to make sure they are fully functioning
If you or someone you love has been injured as a result of a defective smoke alarm that failed to sound, you may be able to file a claim for financial compensation. Contact an experienced product defect attorney at The Rothenberg Law Firm LLP to determine your rights. For more than 40 years, The Rothenberg Law Firm LLP has successfully represented victims of serious injury and their families. The Rothenberg Law Firm LLP maintains offices in New York City; Hackensack, NJ; Cherry Hill, NJ; Lakewood, NJ; and Philadelphia, PA.
For further information, or to speak with an attorney visit our website, injurylawyer.com, or contact us at 1-800-624-8888.