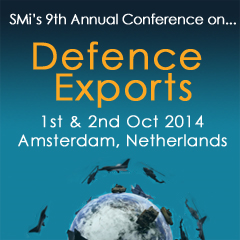 UK (PRWEB UK) 19 May 2014
The U.S. Department of Commerce's Bureau of Industry and Security (BIS) just published regulations that will fundamentally change the nature of U.S. export controls on most commercial, scientific, and civil satellites and their parts and components. Together with a companion rule issued by the Department of State, the action moves the items from Category XV of the State Department's U.S. Munitions List (USML) to the Commerce Control List.*
Have the chance to hear keynote addresses from the U.S Department of Commerce, State and Defense at the 9th annual Defence Exports conference taking place in Amsterdam this October.
At Defence Exports 2014 you will gain valuable information from key government officials and industry leaders on the crucial U.S. ECR modifications, key national export control reforms and plans for regulation changes in the future.
Places are limited so those interested are advised to book their place to take advantage of the £300 early bird discount expiring at the end of the month.
At Defence Exports 2014 there will be 3 industry keynote addresses from:

Kenneth B. Handelman, Deputy Assistant Secretary, Bureau of Political-Military Affairs, U.S Department of State
Kevin Wolf, Assistant Secretary for Export Administration, Department of Commerce
Beth McCormick, Director, Defense Technology Security Administration, Department of Defense
The conference will also feature high-level presentations from:
UK Department for Business, Innovation and Skills; Ministry of Foreign Affairs, Netherlands; Wassenaar Arrangement; Canadian Trade Control Bureau; European Commission; Ministry of Economy, Mexico; Ministry of Defence, Israel; CISTEC, Japan; Kongsberg Gruppen; SIPRI; Northrop Grumman Corporation
Click here to view the full conference agenda.
The Defence Exports conference grows year on year attracting key Government Officials and industry leaders from across the U.S, Europe, Asia Pacific and the Middle East.
Please visit http://www.defence-exports.com to register or for further information call +44 (0) 20 7827 6054.