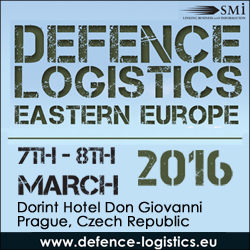 London, UK (PRWEB UK) 17 November 2015
Eastern European Nations are seeking to build up and modernise their military forces in light of several security threats far and near to their borders as well as the demands put on them by NATO membership. They need to become adaptable and flexible, ready to deploy anywhere to defend NATO interests or keep the peace. To do that they require an effective logistics capability able to keep up and support with the combat units.
Defence Logistics Eastern Europe 2016 will feature 8 Brigadier Generals from across Europe and aims to bring together members of logistics commands to discuss the challenges of modernising their logistics forces through training, international cooperation and procurement. While at the same time going through expensive budget reforms.
Brigadier General Jaromir Zuna, Director Support Division, Armed Forces of the Czech Republic commented "The speakers are carefully chosen representatives of participating countries and it is pleasure to be a member of such a distinguished group"
The 2016 speaker line-up features:

Brigadier General Jaromir Zuna, Director Support Division, Armed Forces of the Czech Republic
Brigadier General Imre Pogacsas, Head of Logistics Directorate, Hungarian Defence Forces
Brigadier General Dariusz Lukowski, Head of J4 Logistics Department, Polish Armed Forces
Brigadier Simon Hutchings, Commander 104 Logistics Support Brigade, British Army
Brigadier General Ivica Olujic, Chief of J4, Croatian General Staff, Croatian Armed Forces
Brigadier General Arild Dregelid, Head of the LOS Programme, Norwegian Armed Forces
Brigadier General Diogini Maria Loria, Head of Logistics, EU Military Staff
Brigadier General Herman Ruys, Deputy Chief of Staff Support and Enabling, EUROCORPS
Commodore Marcel Hallé, ACOS J4, NATO SHAPE
Colonel Jan Husak, Director, Multinational Logistics Coordination Centre
Colonel Dr. Pavel Foltin, Director of Logistics Department – Faculty of Military Leadership, University of Defence, Armed Forces of the Czech Republic
Colonel Zoltan Bubenik, Surgeon General/Director of the Medical Agency, Armed Forces of the Czech Republic
Colonel Sylvain Turbide, Deputy Military Representative of Canada to NATO, Canadian Forces
Jiri Hynek, President, Defence and Security Industry Association of the Czech Republic (DSIA)
Visit the event website to view the conference programme with full presentation details
There will be a post conference workshop on:
Optimising Logistics and Rapid Response to CBRN Incidents in the Czech Republic
Hosted by Colonel Zoltan Bubenik, Surgeon General/Director of Medical Agency, Armed Forces of the Czech Republic
Benefits of attending
The Czech Ministry of Defence is in full support of the event with Brigadier General Jaromir Zuna, Head of the Logistics Agency, confirmed as chairman of the event.
Focused discussion groups talking about the benefits of international cooperation as part of the development of logistical capabilities
High ranking speakers from across Eastern Europe talking about operational experience, current and future capabilities, new projects and how they are overcoming budgetary challenges
Informal networking time to talk to peers and colleagues also shaping and influencing Defence Logistics programs today
EARLY BIRD: Book before 30th November to save £400
For more information and to register visit http://www.defence-logistics.eu
For event enquiries contact the team on +44 (0) 20 7827 6000 or email: events(at)smi-online(dot)co(dot)uk
About SMi Group
The SMi Group is a highly professional, independent and global event-production company that specializes in Business-to-Business Conferences, Workshops and Masterclasses, and online Communities. The SMi Group creates and delivers events in the Defence, Security, Energy, Utilities, Finance and Pharmaceutical industries. For more information, please visit http://www.smi-online.co.uk