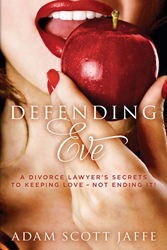 Atlanta, GA (PRWEB) July 11, 2014
DEFENDING EVE
A Divorce Lawyer's Secrets to Keeping Love, Not Ending It!
by Adam Scott Jaffe
"Sexy, Romantic, Raw, Crazy and Intimate...Get inside a man's head like never before," thanks to divorce attorney and author, Adam Scott Jaffe!
Adam Scott Jaffe is Senior Partner at Atlanta Trial Lawyers Group in Atlanta, Georgia. During his career, Adam has litigated thousands of divorce and domestic cases to conclusion, and has achieved elite status with his success as a trial lawyer, and has gained insight through handling the most complex and highly contested divorce trials and settlements nationwide involving witchcraft, intoxicated toddlers, DNA donors and surrogates, same-sex marriages, child abuse and molestation, bipolar and other disorders, spousal slavery, out of state terminations, forensics, step-parent adoptions and so many more unique situations.
Written as a roller coaster of a love story, and read as if it was pulled directly from the author's personal diary, Defending Eve: A Divorce Lawyer's Secrets To Keeping Love, Not Ending It! allows Adam to draw on both his own personal story in the most honest and revealing manner possible, and his years working with couples as a divorce attorney, to seamlessly integrate what he has learned into the most RAW story from a man's point of view that has ever been written.
Defending Eve has been described as the most "sexy, romantic, raw, naked, crazy and intimate story to hit the bookshelves since Fifty Shades of Grey." It is "a roller coaster of a love story that allows the reader to get into a man's head in his search for love like never before."
It is "The Notebook" meets "Fifty Shades" with a naked vulnerability that is completely new, unique and unlike any other book. It is true love story meets self-help meets great fiction. It is the first divorce lawyer in the country to come forward with the "behind the curtain" perspective of what divorce lawyers see as the root cause of break-ups, and how to give relationships the best opportunity to thrive.
From early adolescent romantic stirrings while listening to Whitney Houston and praying for a love like he saw in the movies, to awkward first physical encounters, lust, infatuation, true heart wrenching love, breakups, and the craziest dating situations that seem unfathomable to be pulled from real life, Defending Eve truly allows the reader to understand what men think, feel, and why they do what they do!
One satisfied reader's review is below, and find more on Amazon Reviews for Defending Eve.
"5.0 out of 5 stars Brutally honest & insightful!, June 27, 2014
By Brittany Self
Verified Purchase
This review is from: Defending Eve (Kindle Edition)
I purchased this book based off of a recommendation of a friend & a tempting book cover--let's face it, we're all guilty of that. Needless to say, I was blown away from beginning to end. I had no idea what to really expect, but from the moment I picked it up, I couldn't put it down. The author's ability to describe in great detail the emotions that he felt & the trials he went through with himself to discover love was nothing short of amazing. I felt as if I was experiencing his struggle to find "the one" with him. Everything was relatable, we all have standards & we all try to build the perfect companion in our heads. I know some reviews say the secrets of making a marriage or romance last referred to in the description are hard to find, but I found them quite easily.. especially the underlying message, which I found to be that often times, the love that we so desperately need & want is right underneath our own nose. It just doesn't find you when you're looking too hard for it, but rather when you least expect it. Oh, & prioritize your relationship or you'll wind up in Mr. Jaffe's office ;-). I don't think the book was meant to be a tool for women to piece together what men are thinking, but it also turned out to be very helpful for that, so thank you, Mr. Jaffe! You've definitely made it easier on us women. In all seriousness though, this book is for sure a must read, not just for the summer, but period. Who knows? You might learn something."
About the author: Adam lives in Atlanta, Georgia with his adorable Ruby Cavalier King Charles Spaniel "Georgia". He enjoys watching his beloved Georgia Bulldogs, and disappearing to his beach home in Destin, Florida. Adam's goal as an author is to allow full access to his story, advice, and input, and encourages his readers to reach out to him!
DEFENDING EVE:
A Divorce Lawyer's Secrets To Keeping Love, Not Ending It!
by Adam Scott Jaffe
available in Paperback,E-Book, and Audio Book and through online retailers including Amazon.Com, Kindle, Nook, iTunes, Audible and more!
March 11, 2013
ISBN-10: 1482030594 ISBN-13: 978-1482030594