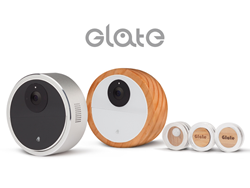 We created a smart device that can do so much more than just screen visitors. DefenDoor helps you make sure your entire home is protected.
Las Vegas, NV (PRWEB) October 17, 2014
Imagine having the convenience of a butler, organization of a secretary, and protection of a security guard rolled into one, easy-to-install monitoring system. That's what DefenDoor offers. This single-unit system easily attaches to any surface and offers round-the-clock surveillance as well as alerts and chimes when suspicious activity occurs at the doorstep or around the home. DefenDoor will launch a crowdfunding campaign on Kickstarter beginning November 11 with a funding goal of $100,000.
DefenDoor is much more than a doorbell or alarm system. It's made up of a camera that lets homeowners know what's happening in front of DefenDoor at all times, vibration sensors that can be placed on windows or doors to sense any kind of motion, and motion sensors that allow the cameras to turn on and off at the appropriate times. When a visitor approaches the DefenDoor unit at the door, the device snaps a picture of the scene and sends this snapshot straight to the homeowner's phone. The homeowner can then decide whether to accept a one-way video chat with the visitor, ignore the alert, or send the visitor a pre-recorded message letting them know the homeowner is unavailable to meet with them.
DefenDoor can also be programmed to be activated by any activity in the area. For example, if a mailman approaches the door to drop off a package, DefenDoor uses motion sensing technology to snap a picture and alert the homeowner of the delivery. If an intruder attempts to open a window, DefenDoor's sensors will notify the owner as well. To keep track of the safety of a user's family, DefenDoor can even snapshot a child's return home from school so that his or her parents know they made it safely inside.
"Caller ID invented a way to screen phone calls, so we decided there should be a better way to screen home visitors," said Ling Chiung, Chief Operating Officer at Glate. "However, in doing so, we created a smart device that can do so much more than just screen visitors. DefenDoor helps you make sure your entire home is protected."
Top-quality materials and specifications were an important touch to the DefenDoor team. A wide-Angle lens allows for a 150-degree view, a high power IR LED allows for night vision, and the camera shoots in 720P/ HD resolution. DefenDoor is completely wireless and can be synced with multiple smartphones to allow every member of the household access to the camera. The system can be powered for up to a year by three AA batteries. DefenDoor also supports MP3 files for customized alerts and tones.
The crowdfunding campaign for DefenDoor will launch on Kickstarter on November 11. The campaign will run for 45 days and has a funding goal of $100,000. Backers can pre-order their own DefenDoor system for under $150 during the campaign. To learn more about DefenDoor and its upcoming Kickstarter campaign visit http://www.glate.in/.
ABOUT GLATE
Glate is a new company dedicated to making homes safer and home security easier. The minds behind Glate have several years of experience in home security technology and hardware. DefenDoor is currently Glate's only product, but the company plans to expand into more smart home devices as the company grows.