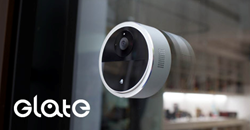 Las Vegas, NV (PRWEB) December 18, 2014
DefenDoor is the latest smartphone-compatible home security system that allows homeowners to see who is at their front door, make certain their kids got home safely, see if packages have arrived and much more from their smartphone- wherever they are.
DefenDoor is wireless (connects via WiFi), Bluetooth activated, and waterproof, making it accessible indoors and outdoors. It is also Cloud-compatible to prevent theft if placed outdoors. The camera, which gets mounted on the front door, has a 150 degree wide-angle HD camera lens that shoots in 720P/ HD resolution. It has two-way audio with echo cancellation and a one-way live video feed between visitor and owner. DefenDoor can send alerts, pictures, voice and video messages from guests to multiple smartphones. Each phone can be programmed to play different ringtone alerts for customized alerts.
Glate, the company that developed DefenDoor, also developed two sensors to accompany the camera for ultimate home security. The motion sensor automatically turns on and off by sensing whether or not you are inside the house, and activates the DefenDoor camera to snap a picture of the scene to send to the homeowner. The vibration sensor alerts the homeowner if something is moved or tampered with, such as a window or screen. The sensor alerts can also be configured to have different ringtone alerts.
The Platinum Backer reward on Kickstarter, which is the least expensive ultimate home security package, includes one DefenDoor camera, one motion sensor and two vibration sensors for $157. This is 30 percent off of the manufacturer's suggested retail price of $224.
Defendoor's Kickstarter campaign has raised over $20,000 within its first two weeks of launching. For more information about DefenDoor visit http://bit.ly/DefenDoorKS or contact media(at)glate(dot)in.
ABOUT GLATE
Glate is a new company dedicated to making homes safer and home security easier. The minds behind Glate have several years of experience in home security technology and hardware. DefenDoor is currently Glate's only product, but the company plans to expand into more smarthome devices as the company grows. For more information about Glate visit http://www.glate.in/.