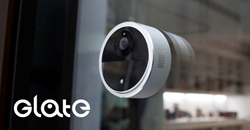 Las Vegas, NV (PRWEB) January 16, 2015
DefenDoor's Kickstarter campaign is coming to an end on Saturday, Jan. 17. DefenDoor, a wireless, Bluetooth-enabled and Cloud-compatible camera and sensor system, has raised over $35,000 to date.
DefenDoor's camera has a wide-angle HD camera lens that shoots in 720P/ HD resolution and has night vision to alert homeowners during the day and at night. Every piece of the DefenDoor system is waterproof, making it accessible both indoors and outdoors. The camera can send pictures, alerts, and voice and video messages to any of its synced smartphones. It has two-way audio capabilities with echo cancellation and a one-way live video feed between the visitor and homeowner. The homeowner can also set personalized ringtones for each alert.
DefenDoor can be activated independently or by accompanying motion or vibration sensors. The motion sensor detects movement and signals DefenDoor's camera to snap a picture of the scene and send it to the homeowner's phone. The vibration sensor acts the same way, however it detects movement of whatever it is placed on like a window or gate.
The Distributor Pack reward on Kickstarter was recently added for backers who were interested in buying DefenDoor and its sensors on a larger scale. This includes 60 DefenDoor cameras, 60 vibration sensors and 60 motion sensors for $10,000, which is over a 15 percent discount.
Smaller scale rewards are also still available- The Platinum Backer reward includes one DefenDoor camera, one motion sensor and two vibration sensors for $157, which is 30 percent off of the future manufacturer's suggested retail price of $224.
Glate, the company that created DefenDoor and the motion sensor and vibration sensor technology, recently attended the 2015 International Consumer Electronics Show (CES) in Las Vegas, NV where they discussed their product's capabilities and specs with other attendees and speakers. For more information about DefenDoor, visit http://bit.ly/DefenDoorKS or contact media(at)glate(dot)in.
ABOUT GLATE
Glate is a new company dedicated to making homes safer and home security easier. The minds behind Glate have several years of experience in home security technology and hardware. DefenDoor is currently Glate's only product, but the company plans to expand into more smarthome devices as the company grows. For more information about Glate visit http://www.glate.in/.