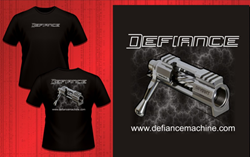 "Our timing is very good. We didn't set out to double our space at the same time the word got around about our good showing with the PRS shooters. It just worked out that way."Glen Harrison, CEO.
Columbia Falls, MT (PRWEB) August 31, 2015
Defiance Machine with its unique ability to combine 3-D computer modeling, a desire to always improve, and a background in competitive shooting founder, Glen Harrison has been chasing closer tolerances for two decades.
Defying conventional wisdom, the Defiance team produces the world's most accurate, most precise custom bolt actions. Others have tried, but Defiance continues to lead the pack.
"Every year, we go to Las Vegas for SHOT," explains founder Glen Harrison, "and every year we come back with more orders, more customers. And I always think we've set a new record—but, nope, we keeping breaking our own records. And I'd bet we'll continue to do that."
The data shows that's true. Ask the top 50 long-range shooters nationwide what they brought with them to the Precision Rifle Series Finale, and Defiance owns 40 percent of that elite market. These are tactical rifle shooters, using repeater actions with detachable box magazines. They expect their equipment to function in the toughest conditions. And for the past three years, it appears Defiance has steadily climbed up that premier market, to claim the top spot in 2014. (data found on PrecisionRifleBlog.com)
Along with increased production capacity, designed to manage current and future manufacturing growth, there is now more space for R&D, which is Glen's passion. What can shooters and gunsmiths expect in new products? As usual, Glen keeps that information very close.
Although the buzz is among PRS shooters, Defiance continues to produce custom bolt actions for many markets: marksmen, tactical, target, hunting, and competition shooting of all kinds. In the firearms industry, being known for precise, accurate—frankly, the best rifle action in production—has given Defiance the means to plan a long-range growth strategy.
"We're hiring," says Harrison. "We're looking for all kinds of skills. But most important—we're looking for people with a commitment to quality, with a strong work ethic, and an ability to enjoy their work. That's the best person to fit with this team."
Defiance Machine was named after an intention, a dream that has become reality. Built on a philosophy of service, Defiance has always put the success of their customers first and foremost. Founder Glen Harrison has spent 23 years in the firearms industry, defying the critics and naysayers.
For more information on Defiance products, accessories, and job opportunities, visit [http://www.defiancemachine.com.
Media Contact:
The RockFish Group
(360) 930-9892 | Kelle@RockFishGroup.com