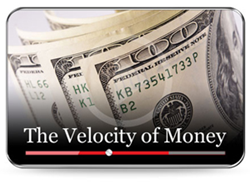 The video series helps individuals understand the economic principals behind the flow of money and its impact on financial objectives.
Broadview Heights, Ohio (PRWEB) October 14, 2014
The May Group has announced a three-part series of brief (less than three minutes) videos designed to help investors and homeowners master the defining moments of their financial security. The three videos may be viewed by visiting the company's website at http://www.themaygroup.com.
The May Group has created these three information-packed "defining moments" videos to show how individuals can make money like banks to fuel financial security for families and businesses. Banks employ a method called the velocity of money to create wealth rather than simply the raw accumulation of funds. The company believes that understanding these principles is key to wise financial decisions, and was their motivation to offer the Defining Moments videos.
The first video, The Velocity of Money, emphasizes that a person's money will never be worth more than it is now. This is a principle that motivates banks and explains that if money isn't in constant motion, it is not creating wealth.
The second video, titled Banks and Your Mortgage Payments, demonstrates how banks rely on the velocity of money to come out ahead regardless of 15- or 30-year mortgages.
Part three, titled Inflation and Your Mortgage, outlines an individual's buying power regarding mortgages. It also shows whether or not it is advantageous to make additional mortgage payments now or later.
Terry O. May, president of The May Group, says, "The video series helps individuals understand the economic principals behind the flow of money and its impact on financial objectives."
Each month, The May Group's Web site home page http://www.TheMayGroup.com will feature a video or booklet addressing a variety of financial topics. The entire library of financial videos can be viewed at http://www.themaygroup.com/may-group-videos.html.
Whether it's creating personal wealth, gaining the upper hand on your mortgage, or bolstering your financial tool kit, each of The May Group's videos are designed to provide visitors with a new way of looking at financial security and options in securing their financial future. Visitors to the website may also sign up for The May Group's e-newsletter, Friends of the Firm, which provides tips and techniques for preserving and growing wealth.
About The May Group
Terry O. May and Angela G. Fleming spent a combined 63 years working in the insurance and financial industries. They observed people struggling to micro-manage their financial position and find the right combination of advice and products to create wealth and security. They felt investors often fell short of their goals in a system that put the well being of financial and insurance companies above the investors. Individuals were taking all the risk, yet companies were reaping the benefits. Angela and Terry knew that there had to be a better way.
The May Group was founded based on a different way of looking at individual financial futures. Terry and Angela drew upon their combined experience and knowledge and sought out better methods to create and sustain financial security.
For more information is offered at http://www.TheMayGroup.com.