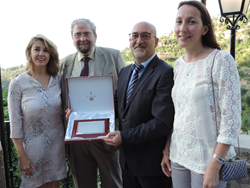 It has always been known for its professional, personal and family-orientated service
Deia, Mallorca (PRWEB UK) 19 May 2015
As part of its programme of events to celebrate its 50th anniversary, the boutique hotel Es Moli is holding weekly welcome cocktail parties for all of its guests. The functions take place at 7pm on the boutique hotel's Deia Terrace with its breathtaking views of the village and the Tramuntana mountain range in Majorca.
On Friday the 15th of May the cocktail party was attended by local dignitaries including the Mayoress of Deia, Mrs Magdalena López, representatives of various different associations and village residents who have either worked at the hotel and are now retired or who are currently part of the hotel staff.
Through this event the village of Deia wanted to pay tribute to the hotel for its 50th anniversary and presented the hotel manager Mr Agustín Risco with a commemorative plaque. The Balearic Government's General Tourism Director, Mrs Montserrat Jaén was also in attendance.
This palatial mansion was converted into a hotel in 1965 and dates back to the 17th Century. It has always been known for its professional, personal and family-orientated service. Proof of this is the amount of repeat customers who come back to Es Moli year after year. Its clients are its best form of publicity. Watch videos of Es Moli experiences.
The hotel manager thanked everyone for attending and spoke of future commemorative events including the launch of a video competition entitled 'Es Moli 50th Anniversary'.
The event was brought to a close with a gala dinner served at the hotel's Buganvilia Restaurant with live musical entertainment. All those attending enjoyed a taste of Es Moli's rich and elaborate cuisine.