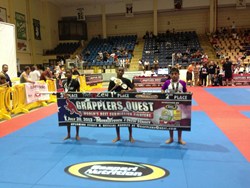 Yeah I felt pretty proud of myself. Winning the expert division made me feel more advance.
Belcamp, Maryland (PRWEB) July 31, 2013
This past weekend, BJJ and grappling promotion Grappler Quest was back in New Jersey to put on yet another awesome competition for East Coast BJJ and MMA schools to test themselves against each other.
Teams from all over Maryland, Pennsylvania, Virginia, Delaware, West Virginia, New Jersey, New York, Connecticut, and the rest of the east coast were in attendance as quite a few team loaded division with competitors, kids and adults. All whose one and only goal was to win gold, and for the elite expert grapplers, winning the belt was their only care in the world.
Fourteen year old Deidrick Smith of Joppatowne, Maryland, was one the elite grapplers with his eye on the belt. This past weekend, winning expert gold would be added to his list of accomplishments. Smith, in his two and half years of experience, has stayed active on the tournament scene, winning gold in all divisions from beginner to intermediate, and now he has earned his right to be called an teen expert grappling champion.
One his way to winning the expert the division, Smith shocked the arena by beating out a huge favorite. This by far was his best performance as a Brazilian Jiu-Jitsu competitor.
Smith had this to say about winning the expert division, "It felt great to win the belt.This is my first time winning the expert division. The people I had to go through to win the belt, yeah I felt pretty proud of myself. Winning the expert division made me feel more advance. I want to thank my parents, my coaches, and my teammate, definitely my teammates ( chuckles)."
Top Flight MMA teen coach, Joey Stallings, had this to add, "Deidrick looked awesome. I told him that he belongs in the elite class and to believe in himself and, uh, he did. He had some tough competition and he excelled. I'm proud of him."
For more information on Deidrick Smith or the Top Flight Teens program please call Top Flight MMA @ 410-272-3799 or visit http://tfmma.com/teen-mma-training-program/.