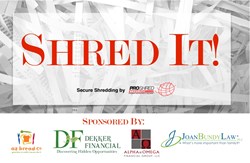 Chandler, AZ (PRWEB) October 16, 2013
Dekker Financial, in Chandler, AZ wants to help you protect your identity. According to two studies done in July 2003, one by Gartner Research and the other by Harris Interactive, approximately 7-10 million people had their identities stolen in the prior 12 months. That works out to 19,178 victims per day, 799 per hour, 13.3 per minute.
While online identity theft is growing, conventional methods like theft of paper mail are still the most common ways thieves gain access to information used to commit identity theft. It is very important to properly dispose of your personal documents.
Dekker Financial is co-hosting a paper shredding event with Alpha & Omega Financial Group and Joan Bundy Law. On October 18th from 11am to 2 pm you are invited to bring your documents for free shredding and have some lunch in their office parking lot at 1490 S Price Rd., Suite 108, Chandler, AZ 85268. A shredding truck from Pro-Shred Security will be there to destroy and dispose of your documents. Lunch will be provided by AZ Bread Co. from Tempe, AZ.
This is a drop in event but to help the organizers plan you can let them know you are coming here.
Meredith Dekker, founder of Dekker Financial Services, LLC , advises her clients on how to make smart choices with their money. She has a special interest in working with small business owners and professionals to uncover hidden financial opportunities. In her work as a Certified Divorce Financial Analyst, Meredith works with both partners to navigate the difficult financial decisions and transitions in divorce.
Dekker Financial regularly offers financial education events including the Wine, Women and Wealth Wednesday series, empowering women to understand and manage their own wealth. The next Wine, Women and Wealth will be November 20, 2013 and will focus on year end planning and feature a selection of holiday wines.
Meredith Dekker is a co-founder of the Estate Planners of the East Valley, and past board member for Go Red for Women of the American Heart Association. She is a member of NAWBO and sits on the Women's Council for the Chandler Chamber of Commerce. In addition, Dekker served as the 2011 President of Toastmasters and received the Outstanding Toastmaster of the Year award for 2010-2011 for Area G7.
Securities offered through Purshe Kaplan Sterling Investments, Member FINRA/SIPC. Headquartered at 18 Corporate Woods Boulevard, Albany, New York 12211. Investment Advisory services are offered through Sutterfield Financial Group, Inc., an SEC Registered Investment Advisor.  Dekker Financial Services, Sutterfield Financial Group, Inc. and Purshe Kaplan Sterling Investments are separate and unrelated companies. Not FDIC insured. Not bank guaranteed. May lose value, including loss of principal.  Not insured by any state or federal agency. CA Insurance License # OE46804.