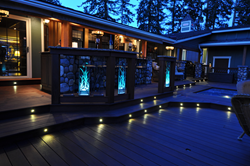 The beauty of our lighting products is that they can have multiple applications because of their versatility, and our new website highlights that.
Denver, CO (PRWEB) March 05, 2014
DEKOR™ has launched a new website (http://www.dekorlighting.com) allowing easier shopping of its growing LED lighting catalog by homeowners, do-it-yourself enthusiasts and home improvement professionals, the Denver-based company announced today. The new website is part of an overall rebranding of the company, which started as a manufacturer of premium balusters in 2003 and is now a leader in producing innovative interior and exterior LED lighting for homes.
"We want DEKOR™ to be the best experience possible for customers, whether it's finding the unique lighting you need, navigating our website or installing our products," DEKOR™ President and CEO Duane McCall said. "Our website has a fresh new look, it's easier to navigate and it also better reflects our identity as a quality and value leader in the LED lighting marketplace."
DEKOR™ has experienced rapid growth over the past few years as it has shifted its focus to kitchen and cabinet, landscape and deck lighting using light-emitting diodes (LEDs), which use at least 75% less energy than traditional incandescent lights. LEDs are more versatile, can last for up to two decades without replacement, and are increasingly being required nationwide under new building standards. The company began as a maker of premium-quality balusters — the spindles used to support deck railings and stairway bannisters — and subsequently designed and patented the lighted baluster. It continues to make LED-illuminated aluminum balusters at its Denver facility.
"The beauty of our lighting products is that they can have multiple applications because of their versatility, and our new website highlights that," McCall said. "For example, our popular Dek Dots were originally designed as deck lighting but now are a concrete lighting and paver lighting staple. A huge improvement in our new website is that customers can now search for our products by use to see the many options and creative solutions available through our collection."
Other website enhancements include an integrated shopping cart, category sorting and filtering, and expanded customer service information. Canadian and European versions of the website have gone online at http://www.dekorlighting.ca and http://www.dekorlighting.eu to reach DEKOR™'s growing international market.
DEKOR™ has also unveiled its new slogan, "Lighting for Life," that McCall said reflects the company's values, how its long-lasting LED lighting products can enhance consumers' lifestyles, and that the company offers some of the best and longest warranties in the industry.
"We are very proud of the workmanship and quality that go into our products, and they are built to be easily installed and then enjoyed for many years with minimal maintenance," McCall explained. "Whether it's used to set the mood for entertaining and relaxing, enhance safety and security or to create a comfortable ambiance, DEKOR™ lighting will transform your living space and enhance your lifestyle."
In 2013, DEKOR™ announced a branding partnership with North Carolina-based CREE LED, the recognized leader in LED components for lighting and the most trusted name in the LED industry. McCall said DEKOR's partnership allows the company to leverage CREE's unparalleled innovation and proven technology to deliver more reliable and better-performing LED lighting products.
For more information about DEKOR™ and its products, please visit http://www.dekorlighting.com.