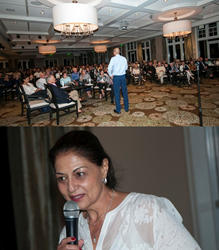 Delaire is one of only 9 venues in the U.S. where Israel Air Force Major Josh and IAFC Executive Director Simcha Salach will speak this year -- we are so fortunate to have gained access to their perspectives on the Middle East conflict. - Trent Squire, GM
Delray Beach, FL (PRWEB) March 18, 2015
As part of its Delaire Cares Program, Delaire Country Club hosted "An Evening with the Israeli Air Force and the IAF Center" on March 10, 2015. At this event, over 190 Delaire members heard presentations from Ms. Simcha Salach, the Executive Director of Israeli Air Force Center Foundation and Major Josh, an Israel Air Force fighter pilot.
The "Delaire Cares" program is an initiative through which the Club is committed to supporting various communities, including its members, staff and the local south Florida community, in thoughtful and beneficial ways.
Ms. Salach explained how the IAF Center's vision is to cultivate and harness the talent, values and spirit in the Israeli Air Force, and spread it throughout Israel's society. Using both a video and through her comments, she described some of the Center's educational and youth programs which are designed to build the Air Force's human capital, train a new generation of Israeli leaders, and spread the values of Zionism and national service mission to help build the next generation of leaders in Israel.
Major Josh provided unique insights into both the personal issues that confront an officer in the Israeli Air Force and some of the broader issues that the Israeli Air Force is facing. Drawing on his own experiences, Major Josh described his feelings after three different missions, including seeing the country on fire, his family traumas after they had experienced a missile attack in Tel Aviv and his own thoughts taking off on a mission while missiles were already beginning to rain down on his air base. He also spoke about how the IAF's mission has expanded from solely fighting enemy nations to one that must cope with the more complex issues when fighting terrorist organizations like Hamas and ISIS.
In thanking Ms. Salach and Major Josh, Dr. Elliot Solomon, described how inspired he was when he visited an Israel Air Force Base and the IAF Center in Hertzlya in Israel, and was able to see the Center and its programs in action. He said that this visit really helped him "connect with Israel's history, the issues facing Israel today, and its hope for the future."
Delaire Country Club, located in Delray Beach, FL, is a private golf community. The Club, which features 27 holes of championship golf, no tee times, 8 tennis courts, a new clubhouse, a state-of-the-art fitness center, gourmet dining, tennis, and ladies' and men's card rooms, recently received the prestigious Distinguished Gold Club of the World award, as determined by the annual Distinguished Clubs of the World award program conducted by BoardRoom magazine, one of the most respected trade publications serving private clubs.