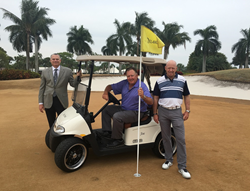 "With home sales at an all time high and our non resident membership program stronger than ever, this golf course improvement project will make Delaire the most attractive small, private club option in all of Palm Beach County." - Trent Squire, GM/COO
Delray Beach, FL (PRWEB) March 30, 2016
Florida's Delaire Country Club broke ground last week on its $4.4 million golf facilities enhancement project, which will bring new greens, fairways and other significant improvements to its 27 hole championship course.
The membership-approved project, led by renowned golf course architect Kipp Schulties and implemented by industry leader Southeastern Golf Inc., includes the following:

New green complexes.
Practice facility modifications.
Lake bank restoration and dredging.
Cart path modifications.
Fairways and rough re-grassing.
New landscaping and aesthetic improvements.
Courtesy station modernization.
These improvements to Delaire's course, all of which will be completed in November 2016, bring it in line with the clubhouse and related facilities, which underwent a $21 million improvement project in November 2011. In meeting and exceeding industry demands and expectations, the Delaire membership and its Board of Governors recognize that quality service and member satisfaction are fundamental to private club growth, success and prosperity.
For more information about Delaire's construction project, visit the golf renovations page, call 561-499-9090 or email admin(at)delaire(dot)org.
Delaire Country Club, located in Delray Beach, FL, is a private golf community. The Club, which features 27 holes of championship golf, no tee times, 8 tennis courts, a luxurious clubhouse, state-of-the-art fitness center, gourmet dining, tennis, and ladies' and men's card rooms, is a recipient of the prestigious Distinguished Gold Club of the World award, as determined by the annual Distinguished Clubs of the World award program conducted by BoardRoom magazine, one of the most respected trade publications serving private clubs.