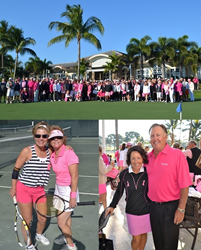 Everyone at Delaire -- members and staff alike -- are proud to make Play for P.I.N.K. an integral part of the club's "Delaire Cares" charitable initiative. - Trent Squire, GM/COO
Delray Beach, FL (PRWEB) March 10, 2015
Event co-chairs Charla Levine and Pam Kirshenbaum announced today that this year's week-long Play for P.I.N.K. activities at Delaire Country Club surpassed the $100,000 mark in gross earnings. Play-for-P.I.N.K., one of Delaire's main charitable events, is a nationwide effort benefiting the Breast Cancer Research Foundation (BCRF).
In her letter to the Delaire membership, Mrs. Levine thanked all the people who helped make the event so successful. "More than 100 participants included local businesses, club members and staff who donated their products and services to get extraordinary results this year."
In describing the results she said, "In addition to the financial success of this year's Play for P.I.N.K. event, we are especially proud to have designed a dynamic group of charitable activities – golf, tennis and card tournaments, plus a putting contest, players' breakfast, ceremonial luncheon, wall of honor tributes, raffle, silent auction and more. Approximately 275 Delaire members and their guests registered for multiple activities. This broad participation and enthusiastic support truly shows that Delaire cares."
Delaire is proud to include Play for P.I.N.K. as part of its "Delaire Cares" program. Through this initiative, Delaire is committed to supporting various communities, including its members, staff and the local south Florida community, in thoughtful and beneficial ways. To learn more about Delaire and its "Delaire Cares" program, please visit our website at http://www.delaire.org.
# # #
Delaire Country Club is a private golf community. The Club, which features 27 holes of championship golf, no tee times, 8 tennis courts, a new clubhouse, a state-of-the-art fitness center, gourmet dining, tennis, and ladies' and men's card rooms, recently received the prestigious Distinguished Gold Club of the World award, as determined by the annual Distinguished Clubs of the World award program conducted by BoardRoom magazine, one of the most respected trade publications serving private clubs.