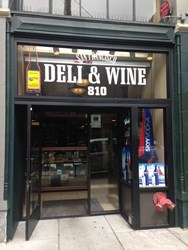 'We are Excited to open our Newly Remodeled Store. We appreciate our Current and New customers and hope they have a pleasant experience shopping with us.' -Sylvain Montassier
San Francisco, CA (PRWEB) August 28, 2013
SF Deli & Wine is proud to reveal their store's interior and exterior renovations to provide customers with a friendly experience accompanied by an inviting atmosphere. After 30 years of running the business, Zain, father of the owner, handed the business over to his daughter, Helen Nasser, Son Tamer and husband Sylvain Montassier. Under their ownership, the renovations have taken place to continue this downtown deli and wine shop's service to the SOMA San Francisco community.
The new renovations can be seen throughout the store from the front door to the floors, ceilings and shelves. The second generation owners wanted to create an even better, cleaner, friendlier and more attractive customer experience in their store. With many other upgrades happening in the immediate area, as well as an increasing influx of international and domestic tourists, SF Deli & Wine wanted to make sure they were providing the absolute best for their customers.
The newly renovated deli features a new deli menu, counter tops, deli display and new refrigeration. They're offering a wide selection of fresh homemade salads, and made-to-order sandwiches, local deli meats from San Francisco-based, Columbus and Sonoma meat from Diestel Farm.
In their new cigar shop, they increased the humidifier for a wider selection of hand rolled cigars. Cigars such as Flor de Las Antillas Nicaragua Cigar of the year 2013, Timeless Collection from Nat Sherman Nicaragua, Rocky Patel from Honduras are now available. Harder to find Cigars like Arturo Fuente Hemingway Collection from the Dominican Republic and Ashton Estate Sun Grown also from the Dominican Republic are also in their shelves.
SF Deli & Wine is also happy to announce their brand new selection of domestic and international wines. They increased their selection of Napa Valley wines, West Coast Wines and International wines to meet high demands for national and international tourists. Domestic Wines such as Cakebread Cellars Napa Valley Cabernet Sauvignon 2009, Penner-ash Willamette Valley Pinot noir 2010, Stag's Leap Wine Cellars "Hands of Time" Napa valley Chardonnay 2010, Honig Napa Valley 2012 Sauvignon Blanc are now available. International wines such as Chateau Bel-Air 2010 Puisseguin Saint-Emilion, Le Tertre Du Bosquet 2010 Sauternes, and Le Mont 2011 Sancerre are also offered.
Visit their website for more information about their products and services http://www.sfdeliwine.com.
About the Store:
For over 20 years, SF Deli & Wine has provided SOMA residents with exceptional Wines, Spirits, Liquors, and Beers. Their wine shop, liquor store and delicatessen in San Francisco has recently been renovated to provide clients with a clean and high quality shopping experience. Looking for something local? They proudly carry a wide selection of local Napa Wines, spirits such as Vodka, premium bourbon whiskey and craft beer from some of the best local breweries. They are located in the heart of SOMA in San Francisco on Mission Street. Visit their wine shop and try their selection today.