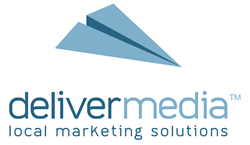 We felt that merging the two divisions would reinforce Deliver Media as the best source for franchise and multi-unit marketing, both on and offline - Sean Johnson
Tampa, Florida (PRWEB) April 14, 2016
Deliver Media, a Tampa-based marketing agency celebrated their three-year anniversary earlier this month. CEO Sean Johnson attributes the continued success to the company's ability to adapt to the ever changing marketing environment: "We are continually looking for ways to get our clients in front of the right consumers at the right time."
Deliver Media began as a company focused solely on direct marketing for companies like Domino's Pizza, Wendy's, Jersey Mike's and GNC. In 2013, when Johnson became the CEO, the company shifted focus to entering the ever-important digital marketing arena. Shortly after Deliver Media partnered with Image Forward to help strengthen the digital product offering which includes search engine optimization (SEO), search engine marketing (SEM), video marketing and social media marketing. The partnership, and eventual acquisition of Image Forward, led to the start of a completely separate brand, Deliver Digital. Deliver Digital provided industry leading local digital marketing solutions to franchisees of national brands like Home Instead Senior Care, Merry Maids and State Farm Insurance.
On the three-year anniversary of Deliver Media, Johnson decided that it was time for the two companies to become one strong brand. The result was a company that's laser focused on helping franchisees leverage the power of their national brand to dominate their local markets in print and digital. "We felt that merging the two divisions would reinforce the brand," says Johnson. "Deliver Media is the best source for franchise and multi-unit marketing, both on and offline."
Deliver Media's partnership with national pizza franchise, Domino's Pizza will now be accompanied by the national provider of non-medical, in-home care, Home Instead Senior Care, national pool service company, Pool Troopers as well as others.
If you would like to find out more about Deliver Media and their integrated marketing services please visit, http://www.delivermedia.com or call (800) 377-4683.