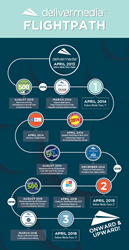 It's been a wonderful ride and I cannot be any happier with the outcome - Sean Johnson, CEO
Tampa, Florida (PRWEB) April 27, 2016
Deliver Media, a Tampa-based marketing agency, celebrated their three year anniversary on April 3, 2016. The company has grown in many ways over these past three years through the leadership of CEO Sean Johnson.
Deliver Media began as a company focused solely on direct marketing for companies like Domino's® Wendy's, Jersey Mike's, and GNC. In 2013, when Johnson became the CEO, the company shifted focus to entering the ever-important digital marketing arena. Shortly after Deliver Media partnered with Image Forward to help strengthen the digital product offering which includes:

Search Engine Optimization (SEO)
Paid Advertising (PPC)
Video Marketing
Social Media Marketing
Review Monitoring
Reputation Management
The partnership, and eventual acquisition of Image Forward, led to the start of a completely separate brand, Deliver Digital. Deliver Digital provided industry leading local digital marketing solutions to franchisees of national brands like Home Instead Senior Care®, Merry Maids, and State Farm® Insurance. On the three-year anniversary Johnson decided that it was time for the two companies to become one brand focused on marketing national brands and their franchisees on a local level.
Deliver Media's continued work with national pizza franchise, Domino's, has been instrumental in helping grow the agency. Domino's Pizza has recognized Deliver Media as an Approved Marketing Provider and continues to use Deliver Media for many of its national and local campaigns. Jennifer Scott, Deliver Media's Chief Operations Officer said, "We are very proud in the work we do with the Domino's Corporate Headquarters as well as the individual Franchisees. We continue to see their business grow and we are glad to be a part of their success."
Continuing the success of previous years, Deliver Media is renewing their intern program bring in the brightest students from local universities like The University of Tampa and The University of South Florida. The program has opened doors for students to receive real-life marketing and sales experience outside of the classroom with a potential job offer after graduation. Bayete' Stevens, a graphic design/digital media major at the University of Tampa, shares his experience with the Intern Program at Deliver Media, "… I have had exposure to things I never imagined I would be ready to tackle so soon." Bayette recalls working on some of Deliver Media's social media projects via LinkedIn and Facebook as well as providing assistance on client creatives. He said, "The guidance and expertise of the Creative Department here at Deliver Media has opened my eyes to the limitless possibilities I have within this field."
Sean shares his thoughts on the past three years and the many years ahead for the company, "It's been a wonderful ride and I cannot be any happier with the outcome. It's fascinating to think where we've been and I'm excited to see where we will go next"
About Deliver Media
Deliver Media is a full service marketing agency helping national franchises with local marketing solutions. Deliver Media provides data-driven direct mail programs, SEO, PPC, video and social media management services specifically scaled for multi-unit businesses. Deliver Media has the experience and knowledge to develop a custom made media campaign that is cost efficient and effective. Deliver Media was voted "Best Place to Work in Tampa Bay" in 2014 by the Tampa Bay Business Journal's Best Places to Work Awards. If you would like to find out more about Deliver Media and their services please visit, http://www.delivermedia.com or call (800) 377-4683.