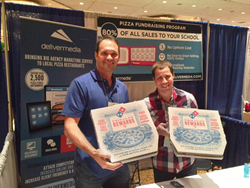 We believe that our schools and in turn, our children should have every opportunity to succeed without any limitations
Tampa, Florida (PRWEB) July 22, 2016
Tampa-based marketing agency, Deliver Media, made a great impact in this year's Florida PTA's Leadership Conference that occurred July 14-21. "We're excited to have had presence at the event" said Deliver Media's Chief Digital Officer Michael Huth," we have a great fundraising program that we believe will benefit our schools."
The event was attended by over 1,000 attendees seeking for continuing training and to build relationships with the attending exhibitors. "This is our first year attending and we have received so much interest in our Pizza Fundraising Program" says Huth.
Deliver Media revealed a Pizza Card Fundraising Program that will return 70-80 percent of gross sales back to the participating schools. "There were many attendees that were taken by surprise and wondered how we are able to provide such a high return. It stems from our developed relationships with existing clients and our heart to give back to the community" says Huth.
Community involvement is one of the core belief Delver Media prides itself on. Michael Huth states, "We are trying to be good stewards of our success, and we believe that our schools and in turn, our children should have every opportunity to succeed without any limitations."
About Deliver Media
Deliver Media is a full service marketing agency helping national franchises with local marketing solutions. Deliver Media provides data-driven direct mail programs, SEO, PPC, video and social media management services specifically scaled for multi-unit businesses. Deliver Media has the experience and knowledge to develop a custom made media campaign that is cost efficient and effective. For more information visit: http://www.delivermedia.com.