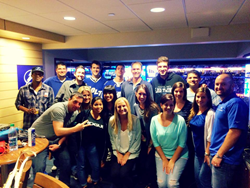 "When something big happens for the company or one of our clients, it's important for the entire team to feel that success." - Sean Johnson, CEO
Tampa, FL (PRWEB) April 14, 2015
Deliver Media, a Tampa-based full service marketing agency, was voted the Tampa Bay Business Journal's 2014 Best Place to Work in the Nearly Big category. The company has been named a finalist again for 2015 and hopes to bring home a second victory. Deliver Media is honored to be a finalist in this category once again, but isn't surprised. The company puts as much emphasis on having fun at work as they do on the work itself. Jennifer Scott, Deliver Media's COO, says, "When you think about it, 2/3 of our lives are spent working and sleeping. So our secrets to success are to love what we do and to have a comfortable bed."
Deliver Media employees completed a survey that featured scaled, multiple choice, and open-ended questions, all answered anonymously. Topics covered loyalty, trust in management, compensation, team effectiveness, individual contribution, job benefits, as well as overall employee satisfaction.
Sean Johnson, the company's CEO, is a big supporter of a "work time fun" office culture, to make sure the company practices a "work hard, play hard" mentality. A focus on benefits, both traditional and non-traditional, makes Deliver Media a leader in the market. Johnson says, "Of course we try to be a market leader with traditional benefits like health insurance and our vacation policy, but we also like to encourage teambuilding with benefits that are outside the box like our trip to Epcot on a party bus or our 3-day Carnival cruise. Especially when something big happens for the company or one of our clients, it's important for the entire team to feel that success. It brings us closer together and promotes a family-style atmosphere."
Deliver Media treats their clients the same way, which is why they have such longstanding relationships. They go beyond services for a fee and truly connect with their clients. This helps them to develop meaningful relationships and promotes excellent service. Tony Agan, an Integrated Marketing Representative says, "I've been with Deliver Media since 2001 and many of my clients have been with me since day 1. Whether they are large national accounts like Domino's Pizza, or growing local businesses like Café Liberty Coffee Services, every client is like a family member. Especially in marketing, we can really push a business in either direction. So we invest a lot of our time in research and development making sure that we stay on the cutting edge of technology, constantly creating innovative ways to help our clients own their market. Best of all, we make it fun so our work is never forced."
About Deliver Media:
Deliver Media is a full-service marketing agency based out of Tampa, FL that uses the latest in cutting edge technology to meet client marketing needs in a custom, scalable, and cost efficient way. With over 20 years of experience, Deliver Media serves nation-wide franchises, agencies, as well as local businesses. Clients include Domino's, GNC, Home Instead Senior Care, Jersey Mike's, and Mitsubishi.
##
For more information on this topic, please contact Deliver Media's Marketing and Branding Coordinator Nicole Michaels at Nicole.michaels(at)delivermedia(dot)com.