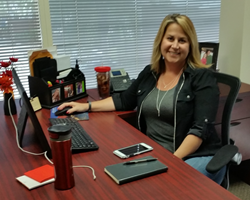 I'm excited about being a part of the Deliver Media team and building upon their excellent Intern Program. - Amy.
Tampa, FL (PRWEB) January 22, 2016
Deliver Media is proud to announce the addition of Amy Huth to their team as the company's Resource Manager. Amy brings a wealth of knowledge in both recruiting and personnel management, and has been a connector and communicator in the Tampa Bay area for over 20 years. In her new role, Amy will be managing the company's college intern program which will relaunch beginning with the University of Tampa (UT) on Jan 28th at their Internship Fair. In addition, she will oversee Deliver Media's social media presence, public relations, and charitable engagement with both local and national organizations.
Amy most recently worked as the Marketing Director for Magnolia Manor, an assisted living facility located in Lutz, Florida. Amy's role allowed her to grow her network within the community while educating others on the growing needs of the elderly. She served as a resource for individuals navigating online and social media resources for ways to meet their aging parents' needs.
Prior to that, Amy worked for over 10 years with Image Forward, a search engine optimization, internet marketing and advertising firm, as the Director of Charitable Giving. She planned developed charitable programs that promoted goodwill, built relationships with community leaders, and represented the company in volunteering and fundraising activities in the community.
Amy's career has allowed her to work in several markets including Michigan, North Carolina, Illinois and Florida. Amy brings a wealth of knowledge to Deliver Media, including recruiting in the financial and technology sectors, as well as a personal passion for helping individuals reach their career goals. Her expertise will undoubtedly enhance the Deliver Media college intern program.
For more information on becoming an intern with Deliver Media, please visit our Internship Program.
About Deliver Media
Deliver Media is a Tampa-based marketing solutions provider that aims to make marketing easier for both franchises and local businesses nationwide. With over 20 years of experience, Deliver Media develops data-driven direct mail programs and social media management tools specifically scaled for multi-unit businesses. The result is cost-efficient and effective media campaigns that drive the bottom line. Deliver Media's extensive client list includes some of the nation's most-recognized brands including Domino's, GNC, Home Instead Senior Care, Jersey Mike's and Merry Maids.