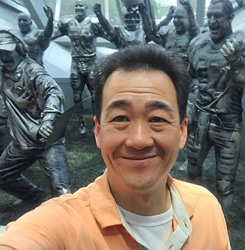 There are times in life when you are 100% certain about an important life event. Joining Deliver Media is one of those special moments. - Jimmy Yi
(PRWEB) April 28, 2017
Deliver Media recently celebrated their four-year anniversary this past April and CEO Sean Johnson had his eyes focused on growing his team and the business. He secured a key talent that would help him propel Deliver Media's competitive advantage to the next level when he named Jimmy Yi as Deliver Media's new Chief Strategy Officer.
Jimmy Yi has over 15 years of experience in analytics/data-driven marketing. His love of data exploration and his creative application of insights has facilitated the ability to personally connect with consumers through relevant messaging via any and all combinations of communication channels.
"I'm just thrilled to have Jimmy join our team. He is a proven entity when it comes to analysis and strategy and we are lucky to have him. Jimmy's energy and passion for delivering value to clients are infectious and we can already see it spreading through our office," Johnson said. "With his help, we will clearly set ourselves apart from the pack when it comes to delivering cutting-edge, results-driven strategies that make marketing easy for franchisees!"
Most recently, Yi has created custom solutions for Mitsubishi's end-to-end CRM (Identifying "in-market" Prospects → Conversion → Service → Retention), the Panera Loyalty Program (Loyalty + CRM Integration), the Rent-A-Center Customer Journey (An ROI/data-driven re-imagining of the Customer Experience), and Domino's Pizza Customer Segmentation (Identifying the varied needs of specific groups of customers regarding message/cadence/frequency/offers).
Yi is experienced in omnichannel solutions utilizing advanced predictive analytics like Experimental Design and Media Mix Modeling. Jimmy's main philosophy in his approach to tackling business issues is that the perfect infusion of a human element into the interpretation of objective analysis is what makes the difference. In his spare time, he enjoys a round of golf with his 9-year old son and is a proud (albeit cursed) Cleveland sports fan.
"There are times in life when you are 100% certain about an important life event. Joining Deliver Media is one of those special moments," said Yi, "I am thrilled to be a part of the collective vision that is shared by the entire company. It is the collaboration of the brilliant/experienced minds here that will continue to push us towards seamless integration of the ever-growing technology that is available today; so that we deliver media communications to the right person, at the right time, with the right message, in the way the customer prefers."
About Deliver Media
Deliver Media is an omnichannel marketing agency specializing in local marketing solutions specifically scaled for franchised and multi-unit businesses. Their data-driven approach to marketing has helped over 3,500 franchise locations deliver relevant communications to the right person at the right time both online and offline. For more information, you can contact Deliver Media at 800-377-4683 or visit http://www.delivermedia.com.