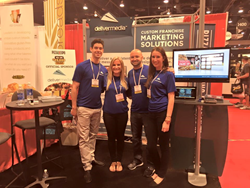 Las Vegas, NV (PRWEB) March 31, 2015
On March 24-26th, 2015, Deliver Media attended the International Pizza Expo as an exhibitor at the Las Vegas Convention Center. The conference was the perfect opportunity for the company to launch their new flagship product, a pizza fundraising program, designed to help pizza store owners increase brand awareness in the community, help out local schools and organizations, and build their own marketing budget. The fundraising program combines Deliver Media's digital brochure and direct mail products, allowing coupon cards to be purchased directly through a digital brochure. These coupon cards are then redeemable right at the pizza restaurant. At the end of the fundraiser, 80% of funds go back to the fundraising organization and $1 from each coupon book is stored in a marketing account for the pizza restaurant to use towards marketing services with Deliver Media.
Deliver Media also showcased their digital brochure service, social media management tool, ifSocial, and their "Captivate the Customer" direct mail marketing program, which sends personalized highly targeted offers to consumers. Overall, the company took the expo as a great learning experience to discover the latest marketing needs of pizza store operators. The face-to-face aspect of this trade show atmosphere allowed for more personal one-on-one time between Deliver Media marketing specialists and attendees at the show. The expo served as a great tool for Deliver Media to stay even further ahead of the learning curve when it comes to pizza restaurant marketing.
About Deliver Media:
Deliver Media is a Tampa-based agency providing cutting edge integrated marketing services. The company has been serving Domino's Pizza for over 20 years of direct mail services. In addition, the company offers full-service marketing and advertising services from direct mail campaigns, website development, search engine optimization (SEO), digital brochures, video marketing, and social media management services. http://www.delivermedia.com
##
For more information on this topic, contact Deliver Media's Marketing & Branding Coordinator, Nicole Michaels, at 800-377-4683 ext 212.