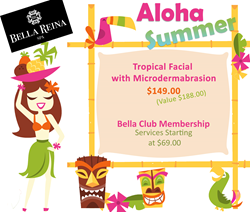 enjoy the intoxicating smells while getting a results-oriented facial
Delray Beach, FL (PRWEB) July 27, 2014
Bella Reina Spa, Delray Beach's skin spa extraordinaire, welcomes in another hot August. The spa is offering the last chance for the season's summer hit, the Tropical Facial. This facial was created by Master Estheticians, Nancy Reagan of Bella Reina and Jennifer Bley from Dr. Grandel Skin Care. The surprise summer hit combines the tropical fragrances of summer with the skin rejuvenation results of glowing, dewy skin.
" When creating the tropical facial, we wanted clients to enjoy the intoxicating smells of the tropics while getting a results-oriented skin treatment. We combined citrus and apricot, with rain forest mists and a passion fruit peel to provide a punch to the summer hit facial", says Ms. Bley.
The Tropical Facial was introduced in June and quickly became a huge success. The most popular requested addition to the facial is microdermabrasion. For August, the spa is celebrating the end of summer with the combined Tropical Facial and Microdermabrasion.
For more information on the Tropical Facial with microdermabrasion or Bella Reina Spa, contact the spa at 561-404-7670 or info(at)bellareina(dot)com.
About Bella Reina: Bella Reina is the leading spa provider and definitive authority on luxury beauty, wellness, and spa treatments. Bella Reina was created by Nancy Reagan, a nationally recognized expert in beauty, nutrition, weight loss, skin care, and makeup. Nancy and Bella Reina Spa have been featured in the New York Times, WebMD, Les Nouvelles Esthetique & Spa, and PC Advisor for spa industry expertise and business success. To learn more about how Bella Reina is constantly innovating both spa services, spa memberships and shopping, please visit BellaReinaSpa.com or MiBellaReina.com.