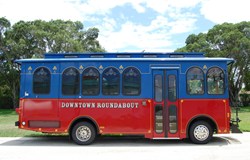 You just know you are in a different place, a more special place when you are riding on them or when you see them - Marjorie Ferrer, Executive Director of the DDA
Delray Beach, FL (PRWEB) July 27, 2013
Downtown Delray Beach, an All-American City, is excited to add a new red and blue trolley that will parade throughout the downtown for all to utilize. The city has always provided a free shuttle service to the many visitors and residents, but this July, three beautiful and charming trolleys were unveiled and put into service for the community.
The new Downtown Roundabout Trolleys are a wonderful amenity that enhances the historic nature of Downtown Delray Beach. In addition to its aesthetic charm, this service will improve the day-to-day life of those that work, live and visit Downtown Delray Beach. "You just know you are in a different place, a more special place when you are riding on them or when you see them," says Marjorie Ferrer, Executive Director of the DDA.
The Downtown Roundabout Trolley service is free to riders and makes traveling from shop to shop or to the beach a breeze. Each trolley can seat about 20 passengers and the hours have been extended to run now from 6:00 AM to 11:00 PM on the two existing routes that run down Atlantic Avenue. The routes run from the Tri-Rail Station east on Atlantic Avenue to A1A stopping at 20 various locations every 10 minutes throughout Downtown. The Roundabout maps can found in the Guidebook to Downtown produced annually by the DDA.
A unique feature to this new service is that the city was able to purchase the trolleys through a $300,000 grant from the Florida Department of Transportation. The South Florida Regional Transportation Authority partnered up as well to assist with funding. They will provide $75,000 a year for two years. The Delray Beach CRA also contributed $550,000 to get the program rolling. The new trolleys will have a positive economic impact on the city, by providing a free, friendly and convenient way to experience shopping and dining in Downtown Delray Beach.
"We are thrilled to have these new trolleys in Downtown Delray Beach, providing our customers this great service – they love it!" says Carole Lynn, owner of Forms Gallery. "They are excited to see the trolley's drive through downtown and are eager to catch a ride even if it is just for a few blocks – it makes shopping much more fun!"
All the details and contact information are available on the website http://www.downtowndelraybeach.com or our Facebook page http://www.facebook.com/delraydda. Visit the site continuous updates as well as register to receive email updates.
About the Downtown Development Authority: For the past 41 years, the Downtown Development Authority has assisted in successfully branding Delray Beach as the Village by the Sea. The Delray Beach DDA was created by Resolution 9-71, which became law on March 22, 1971, as a dependent district of the City of Delray Beach. The DDA Mission is to enhance and stimulate balanced economic growth through position marketing activities that engage Downtown businesses, residents and visitors while creating a clean, safe, physical and experiential place to live, work and invest. The main areas of involvement in downtown redevelopment include: Marketing and Promotions; Economic development programs; Place Making within the DDA boundaries. The DDA also works closely with merchants to develop seasonal retail awareness campaigns to generate traffic and sales and has created a powerful website http://www.downtowndelraybeach.com and facebook.com/delraydda site that attracts thousands of visits weekly.
Contact: Laura Simon, Downtown Development Authority
85 SE 4th Ave, # 108 - Delray Beach, Fl 33483
(561) 243-1077
Lsimon(at)downtowndelraybeach(dot)com
http://www.downtowndelraybeach.com/dda
###