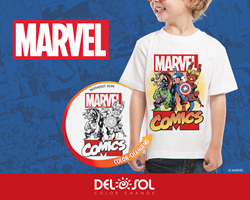 Marvel characters on the shirts come alive every time you step into sunlight.
Salt Lake City, UT (PRWEB) October 13, 2016
Del Sol, international retailer of color-changing clothing and accessories, announced this week the launch of its new collection of Marvel T-shirts for men, women, and children – all of which change colors when exposed to UV light and are available exclusively in Del Sol authorized retail stores and on DelSol.com.
Just like a superhero changing from his secret identity, anyone wearing a Del Sol-Marvel T-shirt can experience a similar transformation when their shirt magically changes color with sunlight.
"These aren't your typical T-shirts," said Scott Brady, Del Sol VP of Communications. "They're like two shirts in one, and they make the Marvel characters on the shirts come alive every time you step into sunlight – more reason to get outside and have fun in the sun with your family and friends."
Del Sol's in-house artists and product designers created, illustrated and printed these designs in compliance with Marvel standards. Each graphic print incorporates Del Sol's proprietary Spectrachrome technology, which is what makes them change from one color without sunlight to a completely different color with sunlight.
"The Marvel Comics universe continues to grow in popularity year over year," said Shawn Corbridge, Del Sol VP of Marketing. "With the rapid growth of its cinematic universe, Marvel's characters have taken over the super-hero world. Stepping from the shadows to sunlight, your shirt will immediately transform with the super powers of color-change."
Initial customer reactions are enthusiastic and engaging, especially with the upcoming movie releases over the next several years. "I got a shirt for my niece and another for my nephew," said Justin S., Del Sol customer. "They both really like them. The designs are perfect for young kids and they really enjoy the color change."
"My son loves his new 'magic' [Marvel] shirt that changes color," said Ivy A., Del Sol customer. "Because we don't have a Del Sol store anywhere near our home, many of his friends and teachers have never seen such a thing! I've been spreading the word about Del Sol and directing people to their stores and website."
Del Sol-Marvel shirts are Del Sol, LC exclusives and color-changing-print breakthroughs using Del Sol's proprietary Spectrachrome® technology, which is what causes the products to change color when exposed to ultraviolet light; i.e., sunlight.
All Del Sol products come with a Wow Guarantee, which guarantees that they will continue to change color for the life of the product. If they don't live up to the customers' expectations, Del Sol will replace them free.
Click here to see the entire Del Sol-Marvel Shirt Collection in a more up-close and personal format.
About Del Sol
Del Sol first splashed onto the retail scene in 1994 out of a small cart in Murray, Utah's Fashion Place Mall and has been sticking its color-changing products where the sun shines ever since. Based on Del Sol's proprietary Spectrachrome® technology, formerly explored by NASA, color-changing inks and dyes are engineered for application on more than 10,000 Del Sol retail items. Much like a flower that blooms in the sun's rays, the hidden colors found in Del Sol's exclusive prints and products twist and unfold into vibrant color upon exposure to sunlight, then returning to their original state without sunlight. Full of sunny optimism about business and life, Del Sol sells its color-changing shirts, hair accessories, jewelry, sunglasses, nail polish and more to cruise ship passengers, sun-loving beachgoers and resort vacationers. Today, Del Sol has grown to more than 100 store locations worldwide in 28 countries, is the world's leading brand of color-changing apparel and accessories, and one of the most highly promoted merchants onboard Royal Caribbean, Carnival, Princess, Disney, Celebrity, and Norwegian Cruise Lines.