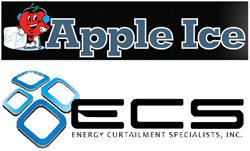 "We are pleased to welcome Apple Ice as our newest customer," stated Jim Korczykowski, president of ECS. "Apple Ice is paving the way for more responsible energy management within the industry, and it is a welcome addition to our program."
Buffalo, NY (PRWEB) September 09, 2014
Apple Ice is strengthening its environmental responsibilities by enrolling in demand response with Energy Curtailment Specialists, Inc. (ECS).
ECS, one of the largest demand response providers in North America, is proud to announce that Apple Ice has selected it as its official demand response coordinator. By limiting its electrical use a few hours each year when the grid becomes unstable, Apple Ice will reduce greenhouse gas emissions and diminish its carbon footprint, all while defending the community's electric grid.
"We are pleased to welcome Apple Ice as our newest customer," stated Jim Korczykowski, president of ECS. "In return for its assistance with securing reliable power for everyone in the community, it will receive substantial compensation. Apple Ice is paving the way for more responsible energy management within the industry, and it is a welcome addition to our program."
As a newly enrolled customer, Apple Ice also joins the ECS Green Roots Initiative. Through this project, ECS partners with the Arbor Day Foundation and donates ten trees on behalf of the customer in an ongoing effort to restore and grow the country's national forests. Apple Ice's pledge to the environment demonstrates its dedication to energy efficiency and a sustainable business strategy.
About Apple Ice:
As the number one ice distributor in New York, Apple Ice has been an industry leader for more than 20 years. Producing over 400,000 pounds of ice each day, Apple Ice offers its customers a wide variety of products including packaged ice, commercial ice, luges, and intricate ice sculptures. Apple Ice serves clients throughout the tri-state region, and has established itself as the premier ice manufacturer in New York City.
About Energy Curtailment Specialists, Inc.:
Energy Curtailment Specialists, Inc. (ECS) offers consultative, administrative, and turnkey demand response services. ECS is one of the largest demand response service providers in North America, with more than 10,000 customers participating in its programs nationwide. ECS is currently serving markets across North America including New York, California, Texas, the PJM territory, and Ontario, Canada.