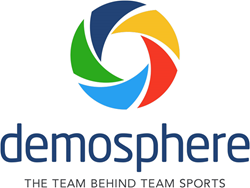 We're excited about the release of our Officials Management solution that's fully integrated with the rest of our sports management platform. Having game schedules, assignments, communications and payments all rolled into one seamless tool is truly a game changer
FALLS CHURCH, Va. (PRWEB) August 12, 2019
Officials Management is a web-based app that allows sports leagues, clubs and associations to streamline the referee hiring process and communication workflow. The mobile-friendly interface displays game schedules and assignments and assists with assigning referees to games.
"We're excited about the release of our Officials Management solution that's fully integrated with the rest of our sports management platform. Having game schedules, assignments, communications and payments all rolled into one seamless tool is truly a game changer," said Kris Baker, President of Demosphere.
Officials Management simplifies the registration process online by allowing organizations to register officials, run background checks, and manage communications in referee assignments. Highlights include easy access to the secure collection and storage of data including photos, W9s and SSNs; facilitation of background checks through third party providers; a responsive interface for managing assignments on the go; and drag and drop functionality for easy game assigning.
"There's a big need in the referee and officials space for new technology and Demosphere is proud to be paving the way," commented Baker.
To learn more about Demosphere's integrated sports management system and how it can help streamline your organization, visit demosphere.com.
About Demosphere:
Demosphere is an Information Technology company based in Northern Virginia that caters to the technology needs of youth sports organizations. For nearly 30 years, Demosphere has provided authentic industry-leading technology solutions for organized sports, accommodating the needs of all levels of organizations and all levels of users, with an ethical approach to how they impact the greater community. For more information on Demosphere, visit the company's website at demosphere.com.