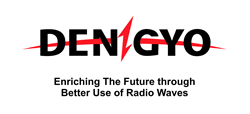 Building upon DENGYO's expertise in wireless coverage and capacity, our wireless access products will address multiple challenges faced by mobile network operators, utilities, local governments, and enterprises when deploying and operating 5G NR, CBRS, LTE, and C-band networks
JOHNS CREEK, Ga. (PRWEB) March 31, 2022
DENGYO, a leading provider of wireless base station antenna solutions, today announced the formation of the DENGYO Technology business unit. This group was established to develop active wireless access infrastructure products, including 5G mid-band radio units, to complement Dengyo's widely deployed antenna solutions.
New and upcoming applications for 5G networks such as Fixed Wireless Access for home internet, Connected Cars, Smart Grid, and Industry 4.0 (industrial automation) demand low latency, high reliability, and high performance. Antennas and radio units wirelessly connect mobile phones, IoT sensors, vehicles, and factories to the network and require planning and optimization to successfully support such demanding applications cost-effectively.
"Building upon DENGYO's expertise in wireless coverage and capacity, our wireless access products will address multiple challenges faced by mobile network operators, utilities, local governments, and enterprises when deploying and operating 5G NR, CBRS, LTE, and C-band networks," said Segawa Jun, CEO of DENGYO Technology. "We're excited now to be able to provide a comprehensive suite of active and passive Radio Access Network (RAN) products to our customers."
About DENGYO
Nihon Dengyo Kosaku Co., Ltd. (DENGYO), a leading provider of wireless technology and antenna solutions founded in Japan in 1947. With a proven track record based on more than 70 years of experience in the telecom industry, DENGYO capitalizes on innovative research and development to create unique, customized solutions that solve even the most problematic mobility challenges. DENGYO continues that tradition by introducing superior wireless technology that meets the highest performance standards while providing a clean, uncluttered approach to cell site and wireless solutions.