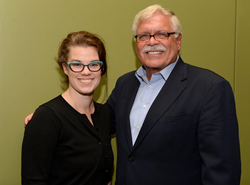 the future will be much brighter for patients diagnosed in 2015
Miami, Fla. (PRWEB) January 30, 2015
The Kidney Cancer Association (KCA) invested more than $695,000 in research related activities, as reflected in its most recent filing with the Internal Revenue Service.
"We're pleased that our 25th anniversary year marks a milestone for our charity," says Bill Bro, KCA 's CEO, a survivor of kidney cancer. "We continue to increase our investment in the work of brilliant young investigators, and we hope to fund more research projects this year than ever before."
Bro, who was diagnosed with kidney cancer in 1989, notes there has been significant progress made in the treatment of the disease over the past two decades.
"In essence, my doctor told me to go home and get my affairs in order, because nothing could be done to help me. I was lucky. Surgery alone cured my cancer, but most people who were diagnosed in 1989 did not fare as well, including Gene Schonfeld, our charity's founder, who died from the disease after only a few years."
Today, in addition to surgery, patients have a number of therapeutic options for treatment of kidney cancer.
"I have friends living with metastatic disease who are approaching two decades of survival, thanks to the advances that have been made through research. If we are successful in attracting more young investigators to this field, by funding their projects, the future will be much brighter for patients diagnosed in 2015," Bro adds.
KCA makes research awards collaboratively with the Urology Care Foundation and Conquer Cancer Foundation. Starting in 2016 it will fund additional projects independently.
In April, KCA will host the European International Kidney Cancer Symposium in Lyon, France. This meeting will attract hundreds of physicians, scientists, and others with an interest in the eradication of kidney cancer. The agenda is available online.
KCA was founded in 1990 by a small group of patients, including Eugene P. Schonfeld, Ph.D., and medical doctors in Chicago, Illinois. It is a nonprofit charity incorporated in the State of Illinois. It has also been designated as a tax exempt organization under Section 501(c)(3) of the U.S. Internal Revenue Service code. Donations to the Association are tax deductible.