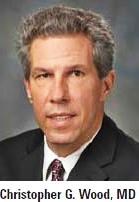 ...patients are grateful for Dr. Wood's dedication
Chicago, IL (PRWEB) October 25, 2013
Christopher G. Wood, M.D., F.A.C.S., was honored at the 12th International Kidney Cancer Symposium, held in Chicago, for his career-long commitment to advancing kidney cancer research. On Friday, October 25, he delivered the Andrew C. Novick Memorial Lecture before a capacity crowd of his peers. An award of $10,000.00 is made by the Kidney Cancer Association (KCA) in Dr. Wood's name to support the research of a young investigator, through the American Urological Association's Urology Care Foundation.
Dr. Wood has been included in the list of "Best Doctors in America" each year since 2005. He serves as Deputy Chairman, Department of Urology, Division of Surgery, at The University of Texas MD Anderson Cancer Center, Houston, Texas. Dr. Wood is also a director of the KCA and he serves on the organization's Medical and Scientific Steering Committee.
Dr. Wood organizes an annual meeting for kidney cancer patients and their families each year at M. D. Anderson Cancer Center, Houston. Kidney cancer experts from around the country are available to interact with these families for an entire day. This meeting was among the first in the nation to be streamed live via YouTube to a worldwide audience of hundreds.
Bill Bro, CEO of the Kidney Cancer Association (KCA), praised Dr. Wood saying, "As a survivor of kidney cancer, I know that patients are grateful for Dr. Wood's dedication to unlocking the secrets of this disease, as we work together to improve the quality of life for the many thousands of people who are now living with kidney cancer."
KCA was founded in 1990 by a small group of patients, including Eugene P. Schonfeld, Ph.D., and medical doctors in Chicago, Illinois. The organization reaches more than 75,000 people in 102 countries and educates medical professionals at its annual symposia in the USA and Europe.