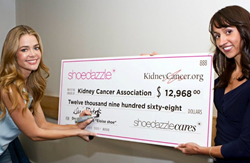 The Fitness Challenge promotes the many benefits of a healthy and active lifestyle
Chicago, Ill. (PRWEB) April 30, 2015
Research shows that exercise can play a key role in recovery from cancer. There's a fun way to improve fitness, overall health, and one's emotional response to cancer. The Summer Fitness Challenge is a good way to stay active, while raising funds for the world's oldest, largest, and most trusted kidney cancer charity, the Kidney Cancer Association (KCA). Participants don't have to travel, join a group, or commit to a specific exercise program.
Carrie Konosky, KCA VP for Public Affairs, says, "The Fitness Challenge promotes the many benefits of a healthy and active lifestyle." She is a runner who has competed in the Chicago Marathon.
Almost anyone can commit to an ongoing program of healthy physical activity this summer and confirm participation with a $10 donation made on the KCA website or by postal mail. Of course, it is important to consult with a medical professional before beginning any exercise program following surgery or if undergoing therapy for advanced disease. The 2015 KCA Summer Fitness Challenge helps patients around the world to stay healthy.
Hollywood star Denise Richards, whose mother died from kidney cancer in 2007, is a member of the charity's board of directors and she helps to raise funds and awareness.
The KCA is a charitable organization made up of patients, family members, physicians, researchers, and other health professionals globally. It is the world's first international charity dedicated specifically to the eradication of death and suffering from renal cancers. It is also by far the largest organization of its kind, with members in more than 100 countries. It funds, promotes, and collaborates with the National Cancer Institute (NCI), American Society for Clinical Oncology (ASCO), American Urological Association (AUA), and other institutions on research projects. It educates families and physicians, and serves as an advocate on behalf of patients at the state and federal levels in the United States and globally.