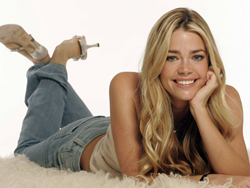 Hollywood star Denise Richards, whose mother died from kidney cancer in 2007, is a director of KCA
Miami, Fla. (PRWEB) July 31, 2015
"Today is the last day to register at savings of up to 50% or more for the International Kidney Cancer Symposium," says Bill Bro, CEO of the Kidney Cancer Association (KCA). "After August 1, 2015, attendance fees will increase substantially. "
Bro adds, "This marks our 25th Anniversary, and we are dedicated to broadening our outreach as we enter the next quarter-century. Traditionally, this meeting was held in Chicago in the fall, but we learned that many medical professionals in South America found this to be a difficult and expensive travel connection. By moving the symposium to Miami, we know that many people will be able to take advantage of direct flights."
Bringing together key individuals and representatives from leading laboratories and centers working with renal cell carcinoma, the 14th International Kidney Cancer Symposium seeks to provide a forum for the exchange of ideas and information that will continue to frame directions for future research and treatment.
Special early registrations are available at rates as low as $125 for nurses, residents, and fellows. Information is available at KidneyCancerSymposium.com, including housing information, and presentations and abstracts from previous symposia.
This meeting is directed to medical oncologists, urologists, and scientists involved in the clinical and research aspects of renal cell carcinoma.
Abstracts in Renal Cell Carcinoma and Trials in Progress abstracts will be accepted for poster display. The deadline for submitting abstracts is September 3, 2015. Top submissions will be published in the British Journal of Urology International.
KCA was founded in 1990 by a small group of patients, including Eugene P. Schonfeld, Ph.D., and medical doctors in Chicago, Illinois. It is a nonprofit charity incorporated in the State of Illinois. It has also been designated as a tax exempt organization under Section 501(c)(3) of the U.S. Internal Revenue Service code. Donations to the Association are tax deductible.
Hollywood star Denise Richards, whose mother died from kidney cancer in 2007, is a director of KCA and, along with other directors of the charity, she has been invited to attend the 25th Anniversary celebration in Miami.