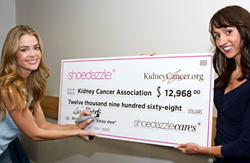 ...our online resources are phone-friendly.
Hollywood, Calif. (PRWEB) December 18, 2014
"There's power in numbers," says Bill Bro, Kidney Cancer Association (KCA) CEO, and a 25 year survivor of the disease. "When I was diagnosed, the Internet was in its infancy and there was no support organization for patients."
Flash forward to 2014, when KCA reaches more than 70,000 families in more than 100 nations, and is staffed 24/7 to refer patients and caregivers to the resources they need to deal with cancer. Web traffic to the KCA site is constant.
"I keep my smartphone at my bedside," Bro adds. "Rarely does a night go by that I don't field a question from a patient or family member, somewhere in the world. But, I struggled with our website when using my iPhone. Knowing that many people try to access information about kidney cancer using a mobile device made it clear that we needed to update our technology so that our online resources are phone-friendly. This is one of the final steps in enabling one-to-one online patient relationships and caregiver mentoring."
The KCA site is still in the final revision process, but those wishing to take an advanced peek on their smartphone or tablet may do so by visiting http://www.KidneyCancer.org. Many of the changes made to the website were the result of user feedback.
"If you have a suggestion for improvement, please use the 'Contact' page to let us know," Bro added. "We hope to have the new site fully functional by January 1, 2015."
KCA is a charitable organization made up of patients, family members, physicians, researchers, and other health professionals globally. It is the world's first international charity dedicated specifically to the eradication of death and suffering from renal cancers. It is also by far the largest organization of its kind, with members in more than 100 countries. It funds, promotes, and collaborates with the National Cancer Institute (NCI), American Society for Clinical Oncology (ASCO), American Urological Association (AUA), and other institutions on research projects.
Hollywood actress Denise Richards, who lost her mother to kidney cancer in 2007, is a member of the charity's governing board. She helps to raise funds and awareness.