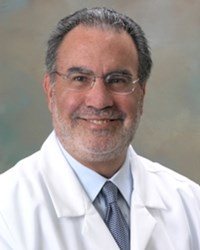 Patients have much to be grateful for, thanks to Bob's dedication...
Chicago, Ill. (PRWEB) October 26, 2013
Robert Figlin, MD, FACP, was honored at the 12th International Kidney Cancer Symposium in Chicago, on October 26, for his commitment to advancing research in renal cancers. He delivered the Eugene P. Schonfeld keynote address to a capacity crowd of his peers.
Dr. Figlin was presented with a Kidney Cancer Association (KCA) research award of $10,000.00 made in his name to support the work of a promising young investigator, through the Conquer Cancer Foundation of the American Society of Clinical Oncology.
Dr. Figlin is Professor of Medicine and Biomedical Sciences, Director of the Division of Hematology Oncology and Deputy Director at Cedars-Sinai's Samuel Oschin Comprehensive Cancer Institute. He holds the Steven Spielberg Family Chair in Hematology Oncology. Dr. Figlin is board-certified in both medical oncology and internal medicine.
Dr. Figlin is a prolific researcher known for advancing urologic and lung cancer therapies. His expertise has resulted in the development of novel anti-cancer drugs that have led to improved outcomes for patients. Dr. Figlin has written more than 300 peer-reviewed publications, authored several books on kidney cancer and published more than 60 book chapters on new approaches to cancer treatment.
Bill Bro, KCA's CEO, applauded Dr. Figlin's work, saying, "Patients have much to be grateful for, thanks to Bob's dedication to helping to improve the quality of life for the many thousands of people living with kidney cancer, as we continue to strive for a cure."
KCA was founded in 1990 by a small group of patients, including Eugene P. Schonfeld, Ph.D., and medical doctors in Chicago, Illinois. The organization reaches more than 75,000 people in 102 countries.