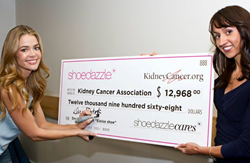 Where else can you interact one-on-one with leading medical experts?
Hollywood, Calif. (PRWEB) January 31, 2015
Cedars-Sinai Medical Center and the Kidney Cancer Association (KCA) will host a daylong meeting for kidney cancer patients, survivors, and caregivers, Saturday, February 7, 2015, at Harvey Morse Conference Center, 8700 Beverly Blvd, in West Hollywood.
Topics to be covered include an overview of kidney cancer, therapies, surgical options, pathology, clinical trials, supportive care, and more. A question and answer session featuring experts in the treatment of kidney cancer will be included in the morning session.
"For patients and their families, this is an important event--one not to be missed," says KCA's VP for public affairs, Carrie Konosky. "Where else can you interact one-on-one with leading medical experts treating patients who have kidney cancer?"
To view the agenda or register, visit the KCA website. This is a free event and is open to all patients, survivors, and their families.
KCA was founded in 1990 by a small group of patients, including Eugene P. Schonfeld, Ph.D., and medical doctors in Chicago, Illinois. It is a nonprofit charity incorporated in the State of Illinois. It has also been designated as a tax exempt organization under Section 501(c)(3) of the U.S. Internal Revenue Service code. Donations to the Association are tax deductible.
Hollywood celebrity Denise Richards, whose mother died from kidney cancer in 2007, is a director of KCA and she has been invited to attend this meeting.