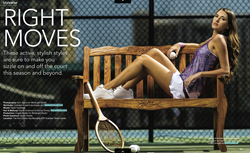 These active, stylish styles are sure to make you sizzle on and of the court this season and beyond.
Miami, FL (PRWEB) April 03, 2014
March is the month of tennis on the exclusive island of Key Biscayne and thousands of tennis fans come to attend one of the worlds biggest and most prestigious tennis tournaments that takes place there every year - the Sony Open. Appropriately the upscale Key Biscayne Magazine has made it a tradition to focus its March issue on tennis and this year Designer Denise Cronwall was selected for the seven-page fashion spread.
The photo shoot took place at the prestigious Ritz-Carlton in Key Biscayne and her boutique-style activewear line can be found in their tennis shop. Denise Cronwall's designs have a strong presence on the island and have also been spotted at the shops of The Ocean Club, Island Athletics, and at the Cliff Drysdale's operated tennis shop in Crandon Park.
Key Biscayne Magazine writes, "These active, stylish styles are sure to make you sizzle on and of the court this season and beyond." Even at the tournament the stylish designs sizzled off and on the court. On the court, top-ranked professional player Mona Barthel wore the latest Paisley Park Tennis dress. Off the courts, among the audience one could also spot a select few stylish women wearing the recognizable designs.
Denise Cronwall describes that her style as "guided by a feminine aesthetic and a love for elegant curves, textures and accentuating details, I design for gracious women that like to express their elegance and style at all times. Given my Swedish and Argentine origin my design aesthetic tends to naturally combine a unique minimalistic Scandinavian influence with a touch of Latin warmth."
About Denise Cronwall Activewear
Denise Cronwall started her eponymous boutique-style activewear line in 2010 and it quickly gained a following in South Florida and has now expanded to 100+ select stores throughout the US. Denise Cronwall's designs that combines her trademark detailing and lace are refreshing in a sea of outfits dominated by only a few manufacturers. These feminine designs can be used for tennis, gym, yoga, running and more. For more information, please visit http://www.denisecronwall.com.