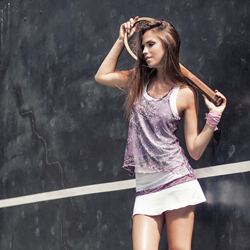 "We expect the line to do very well up north" says Denise Cronwall
Miami, Florida (PRWEB) February 27, 2014
Denise Cronwall is the designer behind the boutique-style activewear line that has been referred to as "Florida's Tennis Fashion Secret". After a strong take-off in Florida the line is now being offered in Illinois, New York, Midwest, and Midatlantic states.
"We expect the line to do very well up north" says Denise Cronwall. The summer collections, that will launch the line in these new territories, includes many unique all-white combinations which is important because of the plentitude of clubs that require white attire in these states.
The line is being offered to Country Clubs, Sports Clubs, Resorts & Boutiques with the intention of providing these retailers with a unique product that is not easily come by elsewhere, an excellent incentive for their clientele to purchase from them!
Sophisticated women, conscious of keeping an impeccable and on point style, are drawn to Denise Cronwall's designs because her activewear collections are always about flattering silhouettes, beautiful construction, luxurious high-tech fabrics and attention to detail. A part of the current clientele are the "snowbirds" from up north and now they will be able to get hold of the line even when on home turf!
About Denise Cronwall Activewear
Denise Cronwall started her eponymous boutique-style activewear line in 2010 and it quickly gained a following in South Florida and has now expanded to 100+ select stores throughout the US. Denise Cronwall's designs that combines her trademark detailing and lace are refreshing in a sea of outfits dominated by only a few manufacturers. These feminine designs can be used for tennis, gym, yoga, running and more. For more information, please visit http://www.denisecronwall.com.