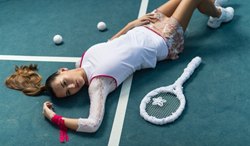 Not all women feel comfortable in the same silhouettes but a team look can still be achieved by mixing and matching silhouettes from one same collection
Miami, FL (PRWEB) May 01, 2014
As USTA team captains are beginning their search for the perfect team uniform, many are turning their attention to Denise Cronwall Activewear.
Some women like long-sleeve, some like cap-sleeve, some like no sleeve, some like skort, some like short and some like dress….It's never easy to get a whole team to agree on a team uniform but with collections that offer a selection of styles in each fabric and print combination to choose from the task is simplified. Designer Denise Cronwall says, "Not all women feel comfortable in the same silhouettes but a team look can still be achieved by mixing and matching silhouettes from one same collection."
Another plus regarding the variety of silhouettes is that players on the team can, if they want, get several outfits that go with the team uniform. Most teams play at least once a week so only having one team outfit can add the pressure of an added laundry day and having two of the same outfit might feel too much.
The team uniform is important to bring the team together and also to set it apart form other teams. Getting to game day with the same uniform as another team is not exactly a hit. Denise Cronwall Activewear now has plenty of selection for teams that are ready to stand out in something unique!
About Denise Cronwall Activewear
Denise Cronwall started her eponymous boutique-style activewear line in 2010 and it quickly gained a following in South Florida and has now expanded to 100+ select stores throughout the US. Denise Cronwall's designs that combines her trademark detailing and lace are refreshing in a sea of outfits dominated by only a few manufacturers. These feminine designs can be used for tennis, gym, yoga, running and more. For more information, please visit http://www.denisecronwall.com.