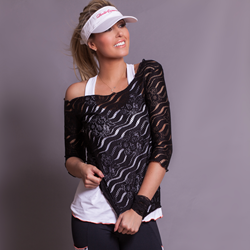 Miami, FL (PRWEB) August 06, 2014
Today, Activewear Designer Denise Cronwall introduces her 2014 Fall Collection. An elegant combination of black and white, the black being a sporty lace is the focus of this collection.
Now worn by tennis professional Mona Barthel it is sure to turn heads at this year's grand slam tournaments as well. "I really like wearing her clothes. They are so unique and beautiful but at the same time they are so comfortable to wear on the court" says Mona Barthel.
Denise Cronwall's signature style is as always present in the elegant use of lace and piping details. This new collection offers several predominantly white combinations to cater to those ladies playing in the all-white clubs this fall.
With price points starting at $36 for essential items such as shorts and ranging up to $136 for more indulgent pieces like a Tennis Dress. This designer activewear collection is now available at select stores nationwide and online at Denisecronwall.com. The collection includes shorts, skirts, dresses, tops, training pants, and jackets.
About Denise Cronwall Activewear
Denise Cronwall started her eponymous boutique-style activewear line in 2010 and it quickly gained a following in South Florida and has now expanded to 100+ select stores throughout the US. Denise Cronwall's designs that combines her trademark detailing and lace are refreshing in a sea of outfits dominated by only a few manufacturers. These feminine designs can be used for tennis, gym, yoga, running and more. For more information, please visit http://www.denisecronwall.com.