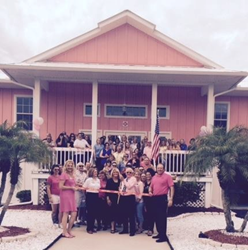 Thank you to all who attended our Grand Opening Celebration
Hernando Beach, Florida (PRWEB) March 30, 2016
Dennis Realty's new Big Pink Office is open for business in Hernando County. Hernando County Chamber of Commerce welcomed Dennis Realty's new Hernando Beach location Friday 3/18/2016. Over 200 people attended the Ribbon Cutting. The guests attending included members of The Greater Hernando County Chamber of Commerce, local residents and business owners, friends, and fellow realtors.
With the support of local sponsors, Dennis Realty provided lunch to all that attended. Local radio station personality John Kelly, with WGHR Hits 106, was present during the event providing the music and a live simulcast inviting members of the community to attend. During the event John also facilitated a raffle with many prizes from the community consisting of gift certificates to local restaurants and various other local businesses.
Dennis Realty and Dennis Property Management would like to thank ABC Dennis Insurance, Tommy Gainer, with Eagle Home Mortgage, and Arrow Title for their contribution in making this event possible. Dennis Realty would also like to thank Precision Title, The Cove, Brian's Place, R Beach, Alcova Mortgage, Southeast Title, Gina's Edibles, ZigZag Scallop, and Red Mule Pub for their donations.
Dennis Realty & Dennis Property Management have been serving the Tampa Bay area since 1973. In February of 2014 Dennis Realty & Dennis Property Management expanded their business to Hernando County by opening a second office in Spring Hill. They had quickly outgrown the offices they were renting in Spring Hill and needed to find a larger building. When the property at 3263 Shoal Line Blvd. in Hernando Beach hit the market "For Sale" Christine Matheson, a Dennis Realty Realtor, brought the available listing to Mr. Dennis' attention. He quickly realized the opportunity and swiftly purchased, renovated, and moved his Spring Hill operation into the new permanent office just a few miles away in Hernando Beach.
Carl Stratton, Broker of Dennis Realty, said "This new location was meant to be. The office is decorated with a Key West vibe, the business environment is very uplifting and productive. I love our new Hernando office!"
Diane Fisher, Sales Manager/Team Leader at the Hernando Beach Office, said, "We just love our new location at Hernando Beach. The agents are so busy meeting new families and helping them with all of their real estate needs. I am thrilled to be a part of the Dennis Realty Family. With Carl Stratton's vision we are growing in leaps and bounds, and this is only possible because our company is a family who cares about families, the community, and giving back."
Dennis Realty & Investment Corporation's Main office is located at 1022 Land O Lakes Blvd in Lutz and has been in business since 1973. Dennis Realty is also a part of The Leading Real Estate Companies of the World® (LeadingRE), the world's largest relocation network with brokerages in over 50 countries and over 500 firms and 120,000 associates producing over one million transactions valued at $321 billion annually. As a leader in local Residential Real Estate and Property Management, Dennis Realty also offers in-house Title and Closing Services along with Homeowners Insurance. For more information about Dennis Realty & Investment Corp. visit http://www.DennisRealty.com or call the office at 813-949-7444.
For information about joining the Dennis Realty or Dennis Property Management team contact Diane at the Hernando Beach office located at 3263 Shoal Line Blvd. Hernando Beach, FL 34607. Phone: (352) 606-3911, Fax: (727) 245-8787, Email: SHInfo(at)DennisRealty(dot)com.