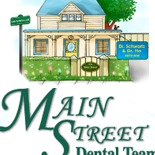 Everything starts at the point of contact, and most often, that's the receptionist
(PRWEB) October 08, 2014
Main Street Dental Team (MainStreetDentalTeam.com), Unionville's first full-time dental clinic, is proud to announce the hiring of Amalia Sima as its new receptionist.
"A lot goes into the Main Street Dental Team providing high-quality dental services in Markham," says Dr. Harvey Schwartz, owner of the Main Street Dental Team. "Everything starts at the point of contact, and most often, that's the receptionist."
According to Dr. Schwartz, Sima comes with years of experience and will be an immediate asset to Main Street Dental Team. Starting immediately, she is entrusted with keeping the office organized and functioning smoothly.
"She already understands our vision of being a trusted dentist in Markham that cares for the well-being of patients and is fully capable of keeping up with the confluence of information that is standard for a dentist," he adds. "Now it's simply a matter of becoming better acclimated with the team and understanding our quirks."
"Developing a clear system to track the stage of patient visits, following up with patients, and handling the appointments are just some of the duties Sima will be expected to complete," Schwartz concludes. "We fully believe she is ready to handle these responsibilities and we're confident in her abilities."
The Main Street Dental Team was established in 1967 and became the first full-time dental practice in the community. The Main Street Dental Team provides a full range of dental services for all ages, including preventive dentistry, restorative/cosmetic dentistry, providing clients with the ultimate smile makeovers, dental Implants, surgery, full and partial dentures, and treatment for gum disease. To better serve the needs of Unionville's growing population, the staff also speaks Mandarin and Cantonese. To learn more about Main Street Dental Team, visit the web site at http://www.MainStreetDentalTeam.com.