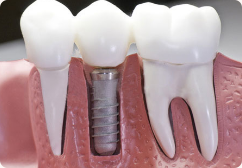 Woodland Hills, CA (PRWEB) August 19, 2013
Dr. Kanani, a world-renowned dentist from Around The Corner Dental Health Spa, now offers dental implants for only $398. Patients can get more information by calling his office at 818-962-1141.
Many patients are unaware of exactly what dental implants are and how much dental implants cost, hence Dr. Kanani, a dentist in Woodland Hills, is giving free advice on this dental service.
According to Woodland Hills Dentist Dr. Kanani, dental implants is a procedure undertaken to replace a missing tooth. Patients may lose their teeth due to accidents or even tooth decay and may wish to undergo the cosmetic procedure of replacing the missing teeth. This replacement service is known as dental implants.
In a nutshell, the dentist will surgically implant a small titanium shaft into the patient's jawbone and allow this shaft to set. Over time, the bone will then grow around the titanium shaft, forming a tight connection which slows or even stops the bone loss that occurs when the root of a tooth is missing. Once this implant is set, the dentist will then attach the replacement tooth on top of it.
The reason why the dentist cannot complete the procedure in one day is because there is normally insufficient quality or quantity of bone left for supporting the implant. When a titanium shaft is inserted, the bone will then grow around it, which strengthens the bone, allowing for a proper and efficient tooth replacement.
According to Dr. Kanani, most dentists conduct this procedure by doing a flap procedure, meaning the dentist will cut and pull back the gum to expose the rim of the jaw to drill and place the implant. In many cases, patients who have to undergo the dental implants procedure have been missing a tooth or teeth for a long time and have moderate to severe cases of bone loss. In cases like these, a block bone graft surgery must first be done. This means a small block of bone will be taken from either the patient's ribs, hips, chin, ramus or cadaver and it will be screwed to the jawbone to create a more stable platform for the dentist to drill and insert the implant.
Dr. Kanani is pleased to inform patients that in most cases, he is able to conduct dental implants without undertaking the flap procedure. This unique flap-less procedure has proven to lessen bone morbidity and eliminates the chances of swelling and pain post-surgery.
As a top dentist Woodland Hills, Dr. Kanani is also able to treat most of his patients without performing the aforementioned block bone graft surgery. This significantly reduces the dental implants cost by $3000 to $4000.
Dr. Kanani is also a Woodlands Hill dentist who offers mini dental implants. These dental implants cost half the price of regular dental implants. Mini dental implants are roughly half the diameter of traditional implants and are done mainly to stabilize lower dentures.
Patients who are interested in learning more about Dr. Kanani, his revolutionary techniques, as well as how much dental implant costs, are welcome to make an appointment at his dental clinic. He is offering a free consultation for first time patients and can be reached at (818) 962-1141 or http://www.woodlandhillsdentalspa.com.