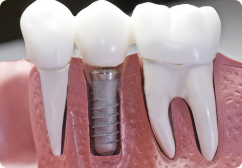 Los Angeles, CA (PRWEB) October 02, 2013
Dr. Kanani, a renown dentist in Woodland Hills, is unveiling why and how he will be able to help patients achieve a higher quality of life through his technique of performing dental implants.
To fully appreciate what Dr. Kanani can do for his patients, the first thing one needs to know is exactly what dental implants are and how much dental implants cost financially and mentally. When a patient gets dental implants, it means that they are getting an implant that is meant to support restorations that resemble a tooth to replace a tooth or missing teeth.
The dentist will insert a titanium shaft into the patient's jawbone. Over time, the shaft is left to set as bone and tissue grow around it. Only when the titanium shaft is securely in place will the dentist go ahead and place the replacement tooth over it. In general, the shaft is meant to be a base for the replacement tooth. Most dentists perform dental implants using what is known as the flap procedure.
This is when the dentist pulls back and cuts the gum. Drilling then takes place before the implant is placed in the jaw. What many patients do not realize is that if they have been suffering from tooth loss for a long period of time, a procedure known as bone graft surgery must first be performed before the flap procedure. This is because those who have been living with tooth loss for a long time probably suffer from moderate to very severe bone loss in their jaw. This means that there is not a solid base into where the titanium shaft can be placed.
A bone graft surgery rectifies this as a small piece of bone will be removed from the patient's ribs, hips and elsewhere suitable. This piece of bone will then be placed into the jawbone, followed by the titanium shaft. As with all other forms of surgery, the bone graft surgery will be painful and costly. This will cause the [dental implants cost to go up by $3,000 to $4,000.
Fortunately, Dr. Kanani, the top dentist Woodland Hills, has figured out a way around the high dental implants cost. He is able to perform dental implants using the Flap-Less/Drill-Less Surgery method. This renown Woodland Hills dentist leaves the gum tissue intact throughout the procedure by using a series of instruments made to expand the bone. This creates a pocket into which the dental implant is placed into, ensuring that drilling and cutting is unnecessary. This helps the patient as this technique is less invasive, and hence less painful. The healing time is also much quicker and patients will be able to go about their daily routine sooner than expected. Additionally, patients are able to reduce the [dental implant cost as there is no need for bone graft surgery.
For more information on how this top Woodland Hills dentist can help, interested patients should contact Dr. Kanani and his team of stellar professionals to set up a complimentary first time consultation. This can be done by calling (818) 962-1141 or visiting http://www.woodlandhillsdentalspa.com.